12 Best Hotel Rate Shopping Tools 2024
Ever feel like you're playing a guessing game with your hotel prices?

Worried about scaring off customers with rates that are too high, or selling yourself short with prices too low?

If Yes!
We have good news for you: there are tools called Hotel Rate Shopping that can help you turn your website, visitor, into a guest.

These rate-shopping solutions have not only changed the overall scenario and working processes of the hotel industry but have also made revenue generation and management much simpler over the years. Even
Want to learn more about these hotel rate shoppers?

Let's start with understanding, what exactly are these Hotel Rate Shopping tools, how they work, and how can help you set the "right price" for your hotel rooms.
What Are Hotel Rate Shopper Tools?
Rate Shopping is all about acquiring hotel pricing data of different hotels, especially the competitor's rates on the basis of location and comp set.
It helps you to get an understanding of the current market prices and helps you set up your pricing decisions. So, let's explore the best rate shopping tools out there.
Top 12 Hotel Rate Shopping Tools
1. Makcorps
MakCorps is one of the leading APIs for hotel competitor rate shopping that provides real-time hotel pricing data via APIs from over 200 OTAs in a single GET request to travel agencies, companies, & hotel chains.
This hotel pricing API dynamically connects you to a robust hotel aggregator, which has been meticulously refined over 10 years. This API provides precise rate information with price comparisons from all the major online travel agencies that help you analyze and come up with better pricing than your competitors. The accuracy and fast data deliverability are what makes it a powerful weapon for hotel chains and online travel agencies to thrive in the market.
To know how to use Makcorps Hotel Price API, watch the video:
Pros –
Lower Prices and discounts will help in increasing the number of bookings. MackCorps Hotel rate comparison tool can help you to provide a transparent panel to visitors.
You can timely release discounts depending upon your profit margin and the price your competitor has set. Secure competitive advantage & sharp pricing.
Cons –
The API doesn't allow booking facilities through the platform.
Rating: 9 out of 10.
2. OTA Insight
OTA Insight is another hotel price shopping and market intelligence that provides real-time information on your competitors' complete pricing strategy.
It features granular insights on competitors' rates, ranking, reputation, and OTB occupancy, and empowers hotel partners with relevant datasets.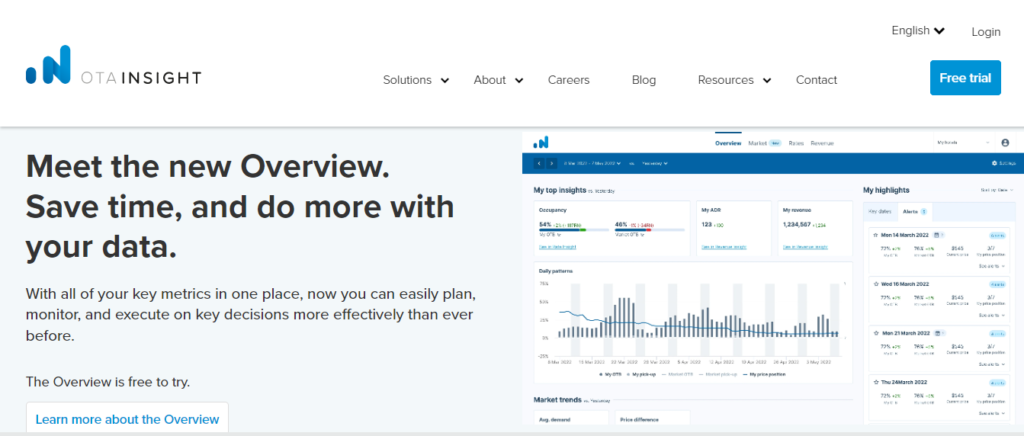 Pros –
Gain an edge in the market by accessing and analyzing competitors' data and understanding their pricing strategy.
Also, it helps you to deliver smarter revenue, distribution, and marketing outcomes through its market-leading commercial platform.
Cons –
It doesn't provide real-time reviews and the personal experiences of the customers.
Rating: 8 out of 10
3. Amadeus
Amadeus powers more personalized and authentic travel experiences.
It is designed to enrich every stage of the traveler's journey and help hospitality providers acquire, service, and retain guests by profitability driving demand and converting them into loyal fans.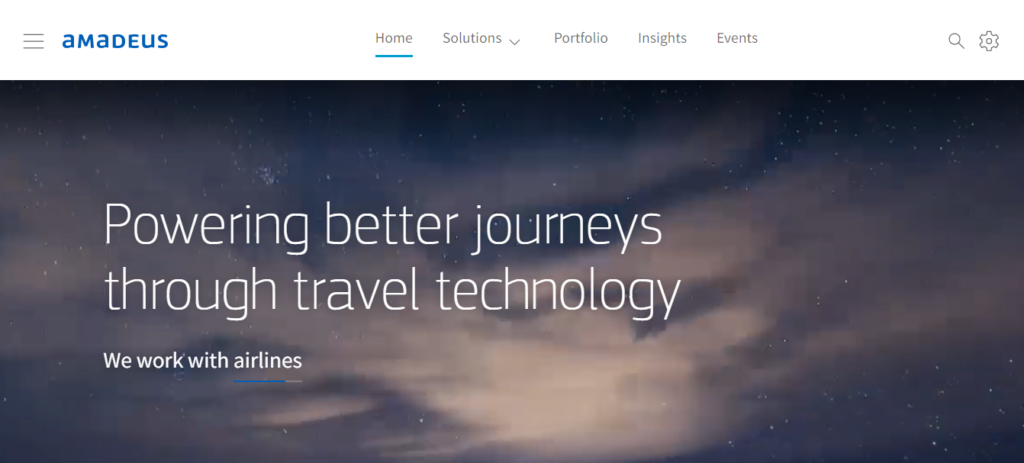 Pros –
It is a forward-looking hotel business intelligence solution empowering hoteliers to create the most profitable revenue strategies.
With access to detailed insight into forward-looking on-the-books data for both your property and your competitive set, you can create unique strategies to outperform your competition and attract the right business mix for your property.
Cons –
It doesn't facilitate a price comparison between different hotels.
Rating: 8 out of 10
4. Rateping Technologies Pvt Ltd
RatePing helps Hotels and Vacation Rentals stay alert and ensures that you make the smartest pricing decisions.
Their Mobile and Web app makes pricing decisions quite simple, and anyone can use them. Rate Ping is one of the best rate shopping solutions out there in the market. The technology is simple to use.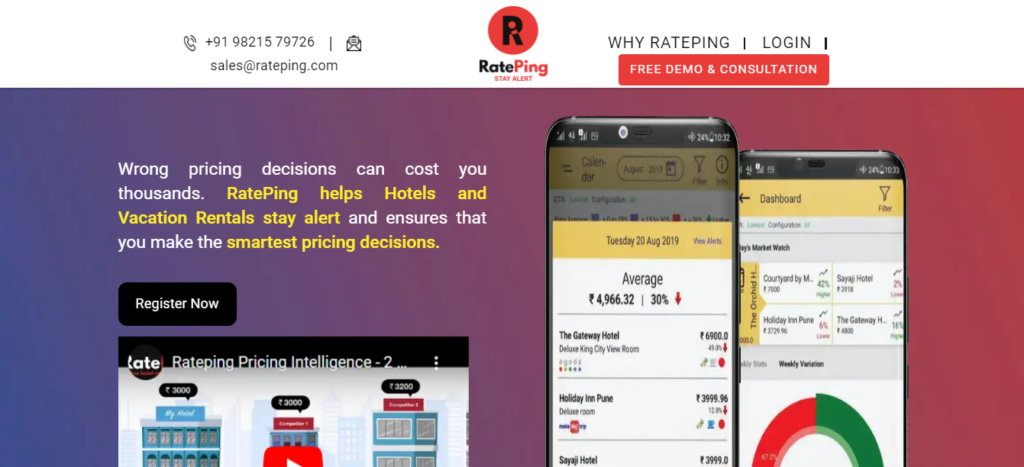 Pros –
It's simple and easy to use and provides efficient support from the company.
Its intuitive and quick updating helps take faster decisions. Accurate pricing and price parity across channels are the most important things to drive direct bookings and RatePing helps you monitor your competitor's prices and set pricing effectively.
Cons –
It doesn't provide actual reviews of the customers regarding a particular search.
Rating: 7 out of 10
5. Hotel Runner
HotelRunner, helps hotels and travel agencies to go online from offline while creating innovative sales channels via state-of-the-art technologies and enabling users to achieve higher recognition in international markets, broader customer outreach, and higher profitability.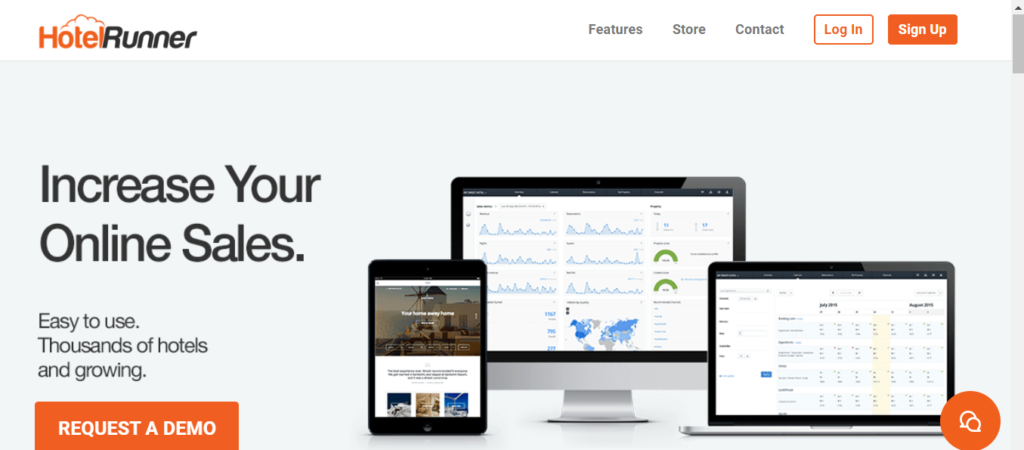 Pros –
HotelRunner automates inventory distribution, maximizes direct channel revenues, and boosts profit margins.
Moreover, it is a marketplace for the tourism industry, bringing together hotels, travel agencies, and service providers on the same platform.
Hotels can market their property to various travel agencies, while both improving their online visibilities and buying a variety of goods and services.
Cons –
It doesn't help with making a price comparison over the API.
Rating: 8 out of 10
6. SiteMinder
See detailed insight reports that provide real-time rate shopping and performance data to help you make more informed pricing and distribution decisions.
You can see which channels are performing best, and where you should focus your marketing efforts or closely monitor the hotel prices of your competitors. You can check them out here.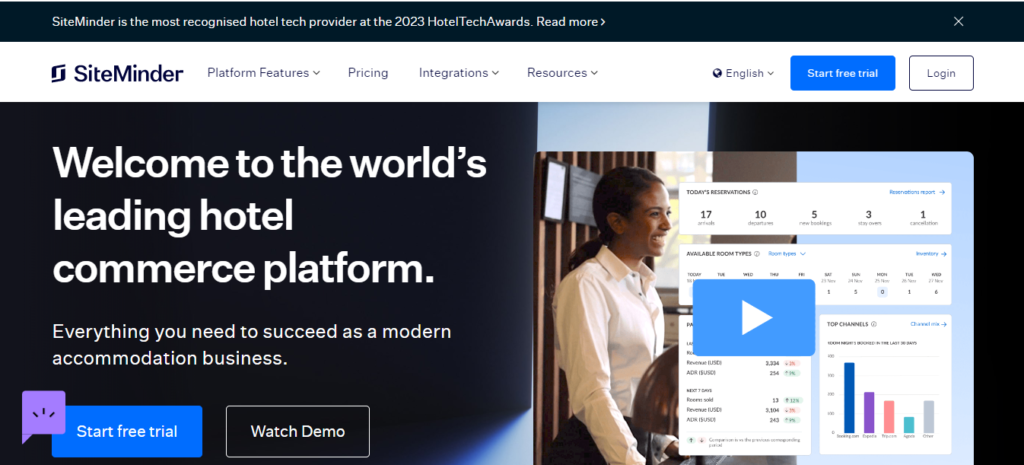 Pros –
The channel manager integration is very powerful and reliable.
Information travels in a very secure mode and there are no gaps in that information.
Cons –
It doesn't support customer reviews and feedback.
Rating: 8 out of 10
7. RateGain
RateGain is a leading provider of SaaS products for travel and hospitality companies helping them maximize occupancy rates in hotels every day through its AI-powered solutions.
They provide holistic hotel rate comparison and competitive intelligence to their customers so that they always stay ahead of their competition.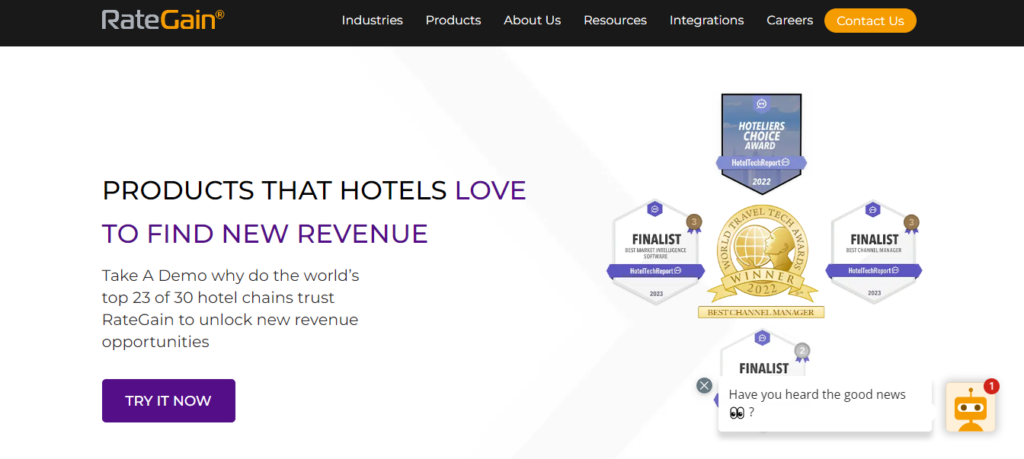 Pros –
RateGain is a prominent channel manager connection connected with almost 400 plus OTAs which is very useful.
The software is easy to use and consolidates a ton of useful data onto one platform.
Cons –
It doesn't allow you to get bookings from the platform directly.
Rating: 8.5 out of 10
8. RateTiger Shopper (By eRevMax)
RateTiger is an easy-to-use business intelligence and a rate shopping for tour operators.
Get access to the hotel prices dataset that you can use for – Analyzing rate position and market movement – Shop for multiple nights as well as multiple room types – Monitor competitor's hotel movement including closed and open dates – Retain rate parity and rate integrity.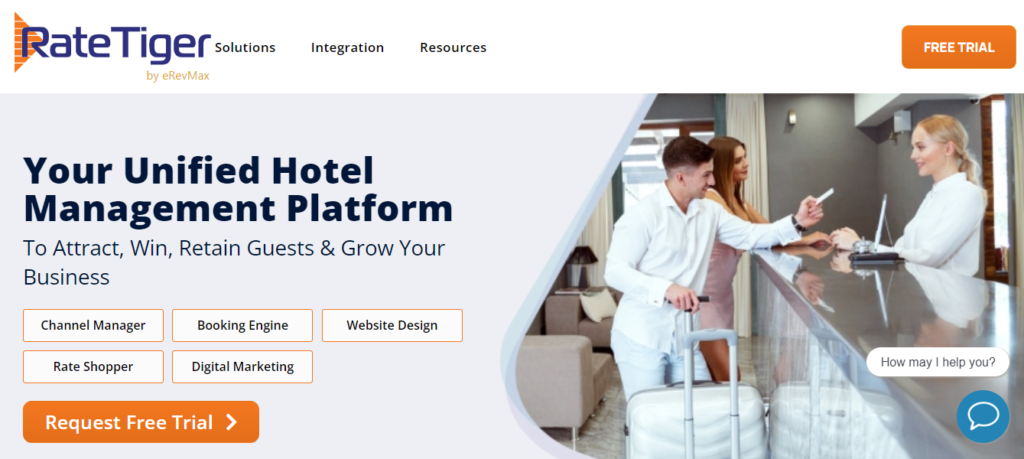 Pros –
It has deep two-way integration with distribution channel partners including Booking.com, Expedia, Agoda, Airbnb, Google, HRS, and Hotelbeds, among various others.
It also offers connections to leading PMS, RMS, CRS, Booking Engines, and other hotel technology systems for a seamless online distribution experience.
Cons –
It doesn't offer customer reviews on its API software.
Rating: 8 out of 10
9. Travolutionary (By Gimmonix)
Travolutionary empowers some of the world's leading travel brands to stay competitive in the cut-throat online consolidation travel space.
It​ not only helps you compete effectively but also manages your pricing efficiently, improves conversions, and maximizes profits.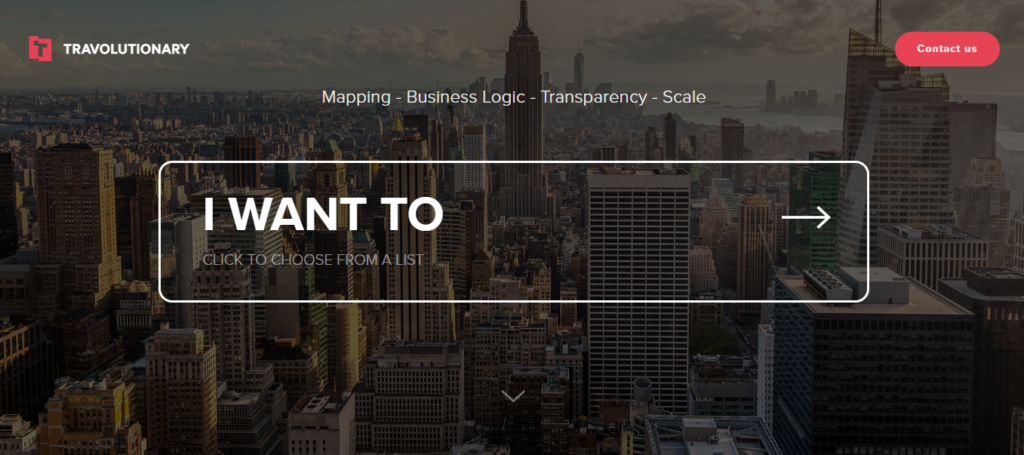 Pros –
It provides access to hotel rate intelligence from all major OTAs as well as over 80 wholesale bed banks, totaling close to 1.4 million unique accommodation options available online for instant reservation.
Cons –
It doesn't feature real-time feedback and opinions of the customers.
Rating: 7 out of 10
10. Hotel Compete
Hotel Compete is a business intelligence start-up for the Hospitality Industry, specializing in market research.
This product help hoteliers gain a booking eye view to building the maximum revenue for the best rate given their amenities, location, and competitors.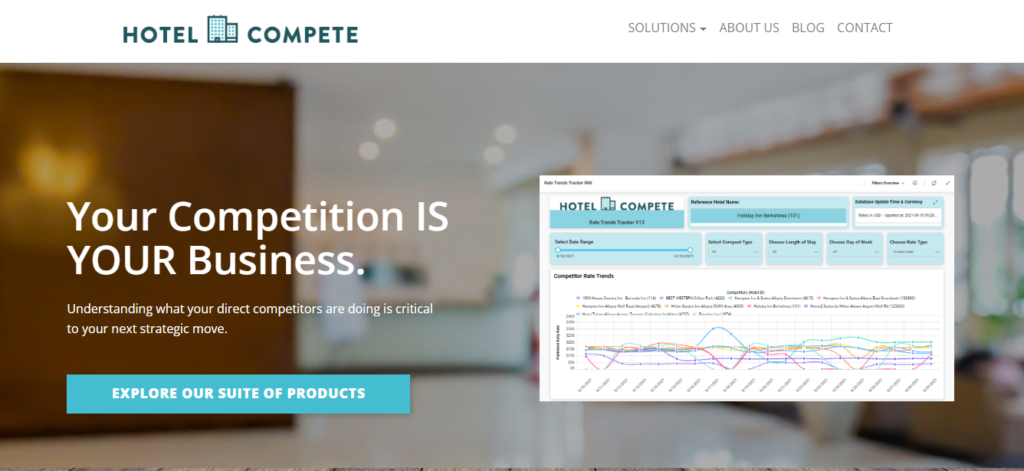 Pros –
It provides fair competitive pricing in this competition. Also, it helps you generate more revenue by attracting customers through unexpected deals and offers.
Cons –
The API doesn't provide sentimental opinions and actual feedback from the pre-visited customers.
Rating: 8 out of 10
11. Rate Insights by Trivago
The complete hotel Rate Insights feature on trivago Hotel Manager PRO provides you with everything you need to know on one simple dashboard to set competitive rates.
Such as benchmarking of competitor rates on all OTAs, Overview of room rates over 360 days, notification of rate changes, the impact of local events on rates, and the level of demand for hotels in your area. This is what makes it a perfect tool for optimizing hotel room rates to maximize booking.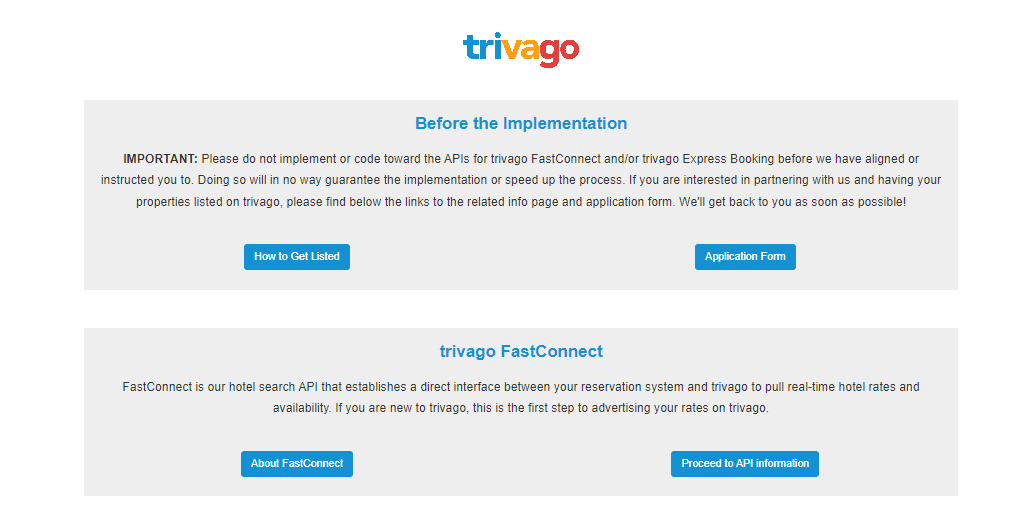 Pros –
Allows you to instantly catch up on the trending hotel rates and patterns in the industry. Also, using this hotel tool rate site you can quickly attain a competitive advantage by designing a selective price strategy.
Cons –
It doesn't help in booking the chosen property over its software.
Rating: 8 out of 10
12. Hotel Price Reporter
The Hotel Price Reporter helps leading hotel operators to gather and process vast amounts of pricing and demand data from multiple channels to uncover patterns and make better-informed pricing decisions.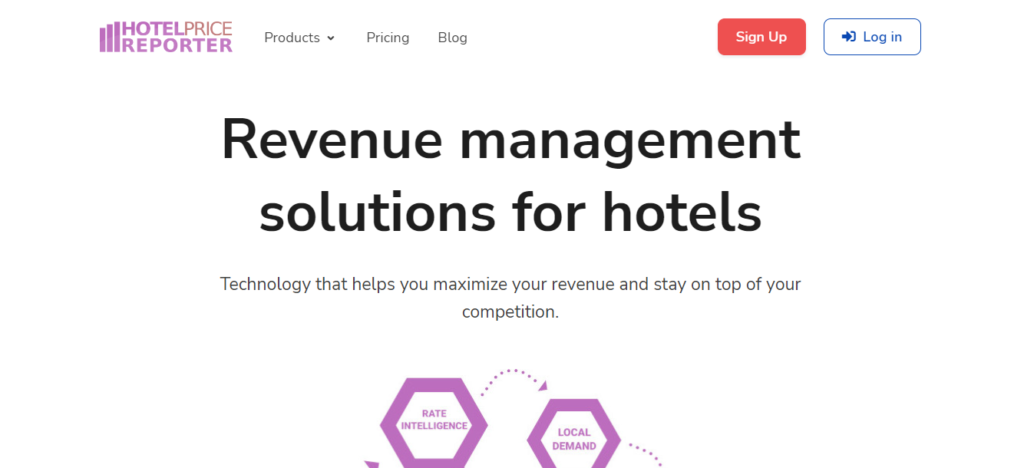 Pros –
This is a leading revenue management tool that lets you uncover pricing and demand insights, simplify your hotel portfolio's monitoring, and help you engage in new ways.
Cons –
The API doesn't showcase real-time reviews and suggestions about a particular property.
Rating: 8 out of 10
After exploring the 12 best hotel rate shopping tools and their features, if you're still unsure about investing in one, consider checking out the benefits it offers hotels and travel agencies.
Benefits Of Using Hotel Rate Shopping Tools For Hotels
1. Increased Bookings and Revenue
Rate shopping tools empower hotels to enhance bookings and revenue by facilitating a balanced pricing strategy.
Key methods include:
A. Competitive Pricing: These tools provide competitor rate information across various booking platforms which helps in competitive price setting.
B. Dynamic Pricing: Rate shopping tools allow for dynamic price adjustments based on demand and availability to maximize revenue.
C. Increased Visibility: By maintaining competitive rates, hotels can improve their visibility on booking platforms and attract more bookings.
D. Revenue Management: Different rates can be set for different room types, locations, and seasons, helping hotels manage their revenue more effectively.
2. More Efficient Rate Management
Rate shopping tools simplify rate management by providing an overview of current and historical competitor pricing data.
They allow:
Dynamic Pricing Adjustment: The tool enables rate adjustments based on demand and availability, competitive pricing which helps in increasing revenue and occupancy.
Competitive Pricing: It provides competitor rates during specific events or seasons which assist in strategic rate setting.
3. Improve Customer Satisfaction
Rate shopping tools improve customer satisfaction by offering competitive and fair rates.
By monitoring competitors' pricing and adjusting rates accordingly, hotels can meet customer expectations and enhance their overall experience.
4. Performance Comparision
Many rate shopping tools provide valuable insights through performance comparison. By leveraging rate and occupancy data from competitors, these tools empower you to analyze and benchmark your metrics effectively. Instant access to key indicators such as RevPAR, Occupancy Rate, and Average Daily Rate from other hotels and properties enhances your decision-making process which enables you to stay competitive in the dynamic hospitality industry.
5. Rate Parity Monitoring
Rate parity can significantly impact your hotel bookings, either positively or negatively. Therefore, maintaining consistent prices across various channels, including your website and OTAs, is crucial. A hotel's reputation and business can suffer if rates on its site are higher than those on OTAs. Fortunately, rate shopping tools streamline the process by collecting and displaying rate information from all channels. This ensures you can quickly identify and address any disparities, enhancing both your revenue and guest satisfaction.
Benefits Of Using Hotel Rate Shopping Tools For Travel Agencies
1. Increased Bookings and Revenue
Hotel rate shopping tools enable OTAs to offer customers the best rates, enhancing customer satisfaction and loyalty. By leveraging hotel pricing data insights, OTAs can compare hotel prices globally, ensuring competitive pricing on their platforms. This leads to more bookings and increased revenue.
2. Enhanced Reputation and Credibility
Rate shopping tools are crucial for maintaining an OTA's reputation and credibility. With real-time hotel pricing updates, OTAs can provide accurate and up-to-date information, fostering customer trust. This increased customer satisfaction results in recommendations, leading to more bookings and higher revenue.
3. Greater Convenience for Clients
These tools bring significant convenience to hoteliers listed on an OTA's platform by accurately reflecting their competitive pricing. As a result, hoteliers enjoy expected bookings and profit, emphasizing the importance of integrating hotel rate analysis software on OTAs and hotel booking platforms.
4. Time & Efforts Saving For Staff
Rate shopping tools save OTA staff time by eliminating the need for manual rate comparison across various platforms. This efficiency allows staff to quickly identify the best hotel rates and make informed decisions, improving overall productivity.

Once you're aware of the perks that hotel rate shoppers bring, you might be wondering how you can leverage them to boost your revenue.
Don't worry, we've got your back on this one. So, let's check it out.
How to Use Rate Shopping Data to Improve Your Revenue Management?
Whether you're a hotel owner, run a vocational rental business or a travel agency strive to offer the best rates to your clients.

Hotel pricing data is your secret weapon.

It facilitates tracking competitor prices, identifying market trends, and helps in creating effective pricing strategies.

But, the question is, how would you use hotel pricing data to improve your revenue manager?
To leverage this data, businesses can benefit from a revenue manager who can analyze data, set competitive rates, and work in sync with marketing and sales to align pricing with business objectives.
Additionally, a data analyst can assist in collecting, cleaning, and interpreting data to further inform pricing decisions.
While not mandatory (depending on the business size and your requirements), having these professionals on board can significantly boost revenue.
Conclusion:
The Hotel Rate Shopping Tools can be integrated with your business process to create a successful revenue management strategy and can take your business to attain great heights.
Why see the bigger picture when you can attain it through the automation process of this extremely handy and useful software which eases the process to a great extent?
Signup for a hotel rate shopper today!

And, make real-time data-driven decisions that bolster profitability and success.
Frequently Asked Questions:
Makcorps pricing plans start from just $3,500 per year, including 10,000 API calls each month. Click here for a detailed breakdown of pricing plans and features.
Additional Resources:
If you're on your way to setting the best hotel prices to attract more customers, these blogs might be helpful for you: