10 Best Dynamic Pricing Software for Hotels In 2023
In today's highly competitive and fast-paced market, it has become increasingly essential for hoteliers to optimize their pricing strategies in order to stay ahead of the curve. That's where dynamic pricing software comes into play!
These innovative tools empower businesses with the ability to adjust their prices in real-time, based on market demand, competition, and other crucial factors.
In this blog, we will explore some of the best hotel dynamic pricing software available in the market, delving into their features & pricing.
So, buckle up and join us as we discover the ultimate solutions for your dynamic pricing needs!
Before we explore the top 10 dynamic pricing software solutions for the hospitality industry, it's important to understand why these tools are a must-have for hoteliers.
So, check out WHY?
Why Dynamic Pricing Software is a Must-Have for Hoteliers
Dynamic pricing software is a game-changer for hoteliers. These tools use algorithms and data analytics to automatically adjust room rates in real-time based on factors like demand, competition, and local events.
By incorporating this dynamic pricing analytical software into your hotel management strategy, you'll be able to:
Increase revenue by capturing the highest possible rates for each room
Improve occupancy rates by offering competitive pricing
Save time by automating complex pricing decisions
Make data-driven decisions backed by real-time market insights
Now that you understand the importance of dynamic pricing software, let's dive into the top options available for hoteliers.
Revolutionize Your Revenue Strategy: The Best Dynamic Pricing Software for Hotels in 2023
1. Makcorps Hotel Pricing API
If you're looking for a reliable source of real-time hotel price comparison data, look no further than the Makcorps Hotel Price API.
With access to pricing information from over 200 online travel agencies around the globe.
This powerful tool can help hoteliers and travel agencies fine-tune their pricing strategies, stay ahead of the competition, and boost their revenue potential.
By making data-driven decisions and offering discounts when necessary, businesses can effectively increase their bookings and create a loyal customer base.

(Without a doubt, for making pricing decisions, MakCorps API reigns at the top in the industry. if looking for other hotel data such as reviews, content, and room mapping data, check out these best hotel api providers.)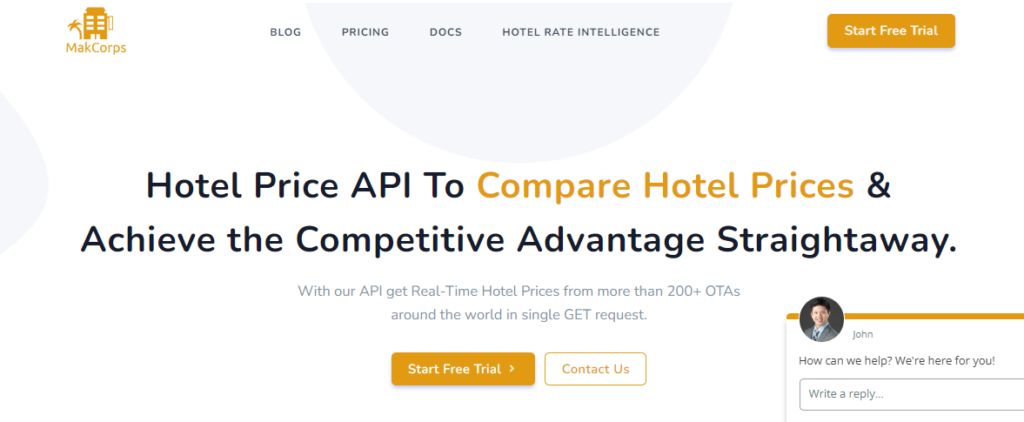 Features:
Hotel price comparison data
Real-time hotel prices from 200+ OTAs
Historical hotel pricing data from 2010 to current
Price:
Makcorps offers four different plans: a free basic plan, an advanced plan, and a custom plan. If you're interested in learning more about their pricing and offers, just click here.
Wanna know how easy it is to get hotel pricing data with Makcorps API. Watch the video:
2. Pricepoint
Pricepoint is an AI-powered dynamic pricing software designed to help hotels stay ahead of the competition. With seamless integration with PMS and channel managers, Price Point enables hoteliers to increase revenue and respond to market changes in real-time.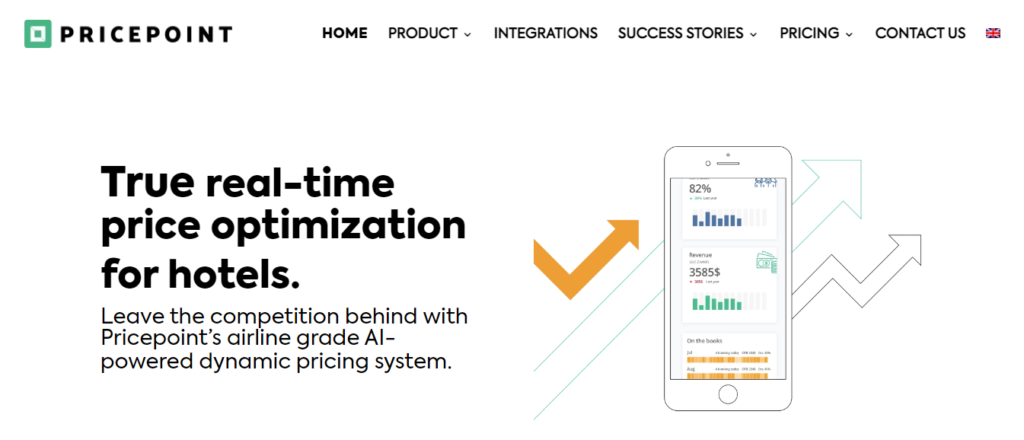 Features:
Real-time price optimization engine
AI-powered revenue management system
Integrates with PMS and channel managers
Mobile app for on-the-go control
Pricing:
Price Point offers two pricing options for hotels: $6 per room monthly (minimum license of $129 or $199 depending on region) and $50 fixed fee monthly + $1 per bed monthly for hostels. To know more click here.
3. Beonprice
Beonprice is an AI-driven hotel dynamic pricing software that provides a holistic view of your hotel's data and offers actionable strategies for total profitability. The platform helps hoteliers optimize revenue forecasting and decision-making, while also shifting from RevPAR to RevPAG for a more guest-centric approach.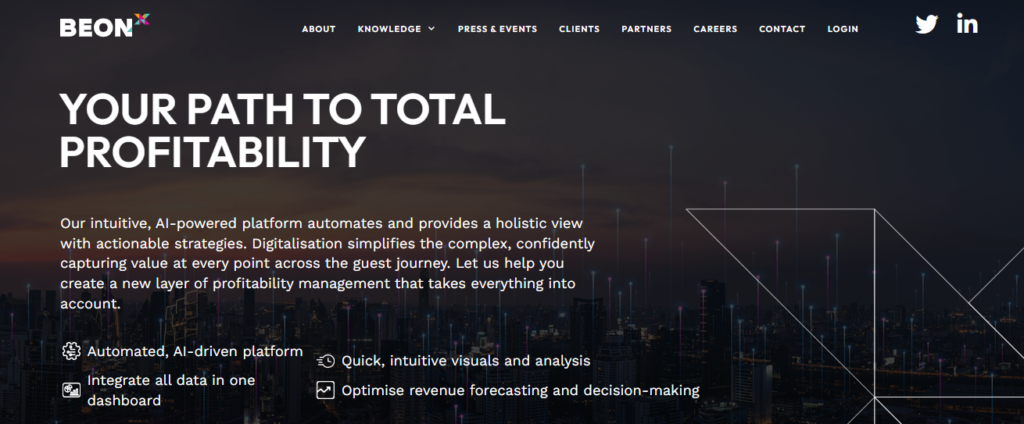 Features:
Automated, AI-driven platform
Integrates all data in one dashboard
Optimizes revenue forecasting and decision-making
Hotel Quality Index (HQi) for competitive positioning and price elasticity
Pricing: Beonprice offers three packages: Essential, Professional, and Custom package. Contact Beonprice directly for pricing information. Contact to discuss pricing.
4. RevControl
RevControl is a hotel revenue management software along with a dynamic pricing feature that provides insights and tools for revenue managers. With a direct connection to your PMS, you can easily manage your data, set up alerts, and compare current performance with historical data. Moreover, it also provides detailed insights into your competitor's pricing. To get better results learn how to analyze your hotel competitor set.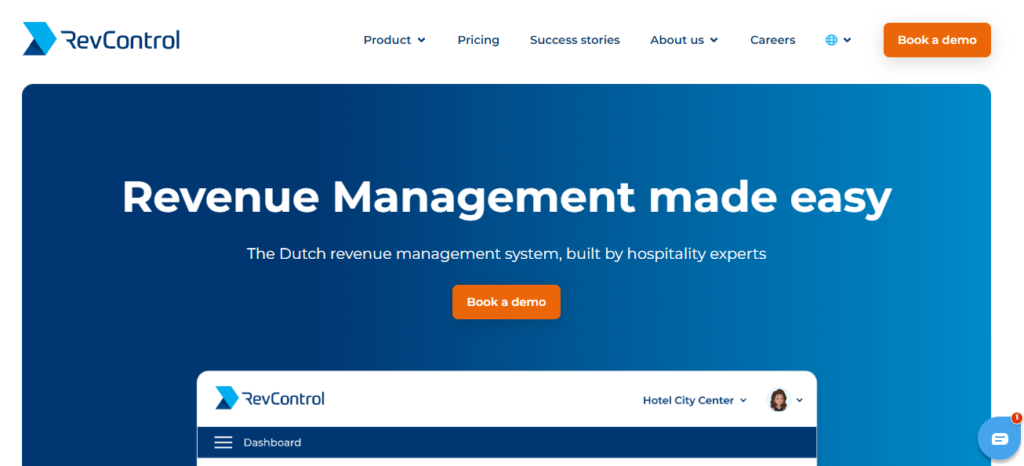 Features:
Auto Publish
Competitor intelligence
Group rate recommendations
Rate calendar
Reports and analytics
Competitor rate shopping
Rate buckets
Rate recommendations
Pricing: RevControl offers Plus, Standard, and Expert packages. Click here to see pricing details.
5. IDeaS Revenue Solutions
IDeaS Revenue Solutions is a global leader in revenue management solutions for hotels. Their cutting-edge technology combines data-driven insights with AI-powered algorithms to offer dynamic pricing and revenue optimization strategies.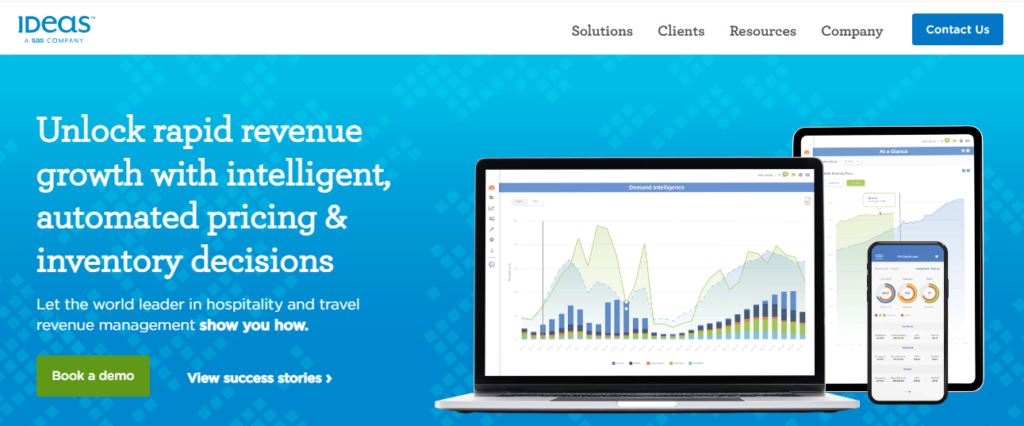 Features:
Advanced forecasting and pricing models
Real-time, automated rate adjustments
Multi-channel distribution strategy
Integration with property management systems
Customizable reporting and analytics
Pricing:
Price information is not available on the website, contact to find out.
6. Atomize
Atomize is a next-generation revenue management system that enables hoteliers to optimize their pricing strategy based on real-time market data. With an intuitive interface and powerful features, Atomize empowers hotels of all sizes to enhance their revenue strategies and achieve remarkable growth in revenue.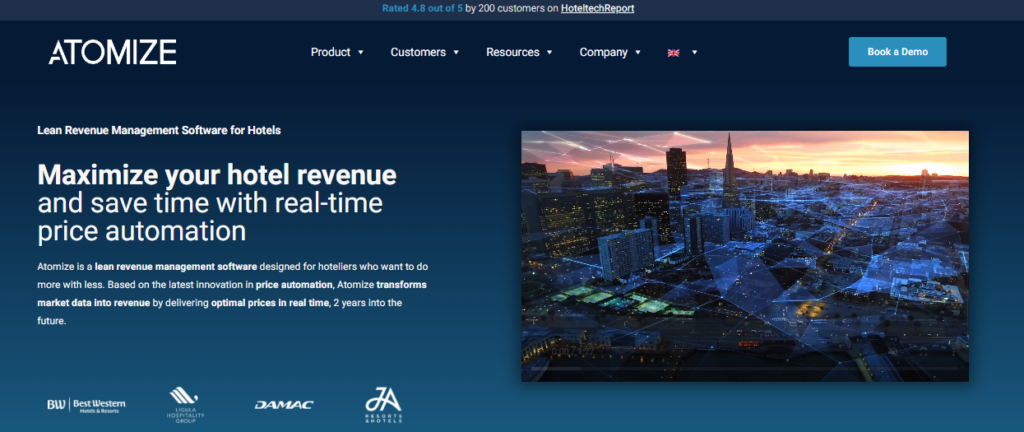 Features:
Real-time market data analysis
Automated pricing recommendations
Group booking analysis
Mobile app for iOS and Android
Seamless integration with PMS and channel managers
Pricing:
Atomize offers a monthly subscription plan based on your hotel's size and requirements. Contact Atomize for detailed pricing information.
7. RoomPriceGenie
RoomPriceGenie is a user-friendly dynamic pricing software that aims to help small and medium-sized hotels maximize their revenue. With an easy setup process and personalized pricing strategies, RoomPriceGenie makes dynamic pricing accessible to everyone.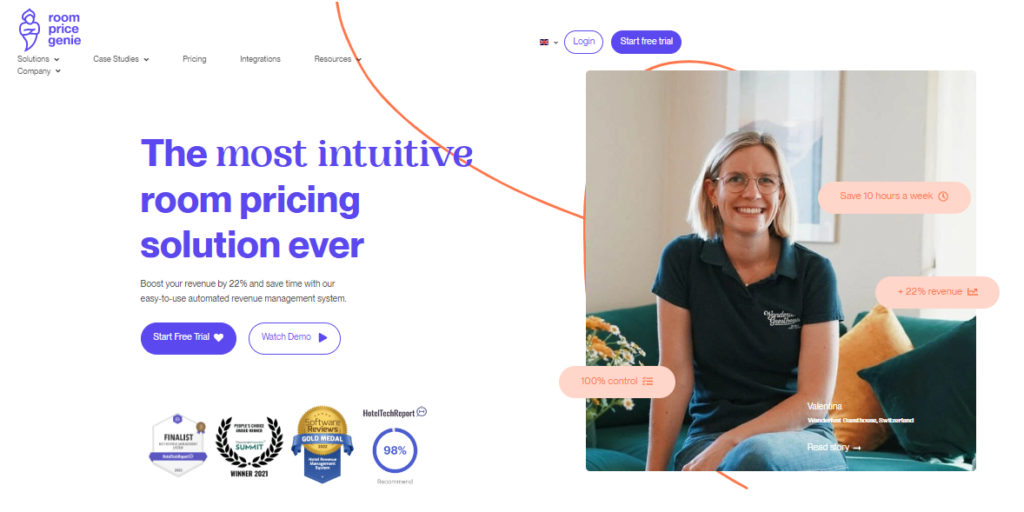 Features:
AI-powered dynamic pricing
Personalized pricing strategies
Easy setup process
Integration with popular PMS and channel managers
Dedicated customer support
Pricing:
RoomPriceGenie offers three pricing plans: Starter, Professional, and Enterprise. Prices start at $49 per month for the Starter plan, with the Professional and Enterprise plans offering more advanced features at higher rates. Click here to know more about pricing.
8. Wheelhouse
Wheelhouse is a versatile and user-friendly dynamic pricing software designed for various types of hotels and property management. With its adaptable pricing tool, in-depth market insights, competition data monitoring, and ultimate customization capabilities, Wheelhouse helps hoteliers make faster, more informed decisions that boost revenue and efficiency.

Features:
Adaptable base, minimum, and maximum pricing
Configurable risk tolerance
Weekend adjustments
Far-future pricing
Performance tracking, dashboards, and targets
Easy preview
Market insights
Worldwide availability
Pricing:
Wheel house is available in 2 pricing plans which starts from $3 to $20 a month. Plus provide custom plans for enterprises. Head over to check out detailed pricing plans.
9. AIOsell
AIOsell is an all-in-one, cloud-based hotel management system that focuses on dynamic pricing to optimize revenue and improve efficiency in hospitality businesses. Developed by hotel owners, AIOsell offers a comprehensive suite of features, with its best-in-class dynamic pricing and revenue management system at the core.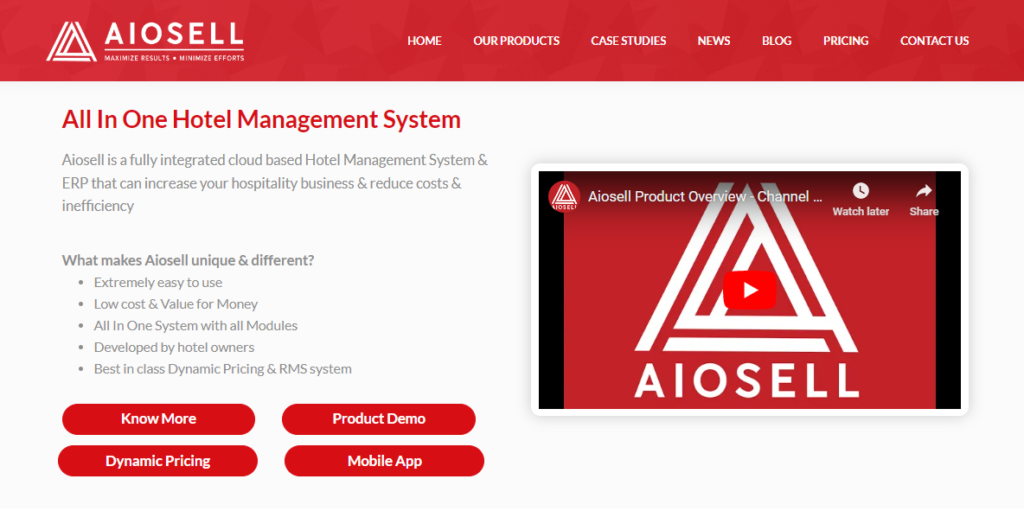 Features:
Dynamic Pricing and Revenue Management System
Property Management System (PMS)
Channel Manager
Booking Engine & Website (with Google integration)
Point of Sale System
Reviews & Reputation Management System
Multi-Property & Chain hotels management
Purchase & Inventory Management
Expenses & Accounting System
Housekeeping & Maintenance Module
HR & Employee Management System
CRM & Leads Management System
Pricing:
Depending on the features pricing are vary. For a breakdown of the pricing details, you can check them out right here.
10. HappyHotel
HappyHotel is a revenue and yield management system that supports hoteliers with data analysis and hotel KPIs. As a cloud-based software designed specifically for small and medium-sized hotels, HappyHotel can be utilized by hotels of all sizes.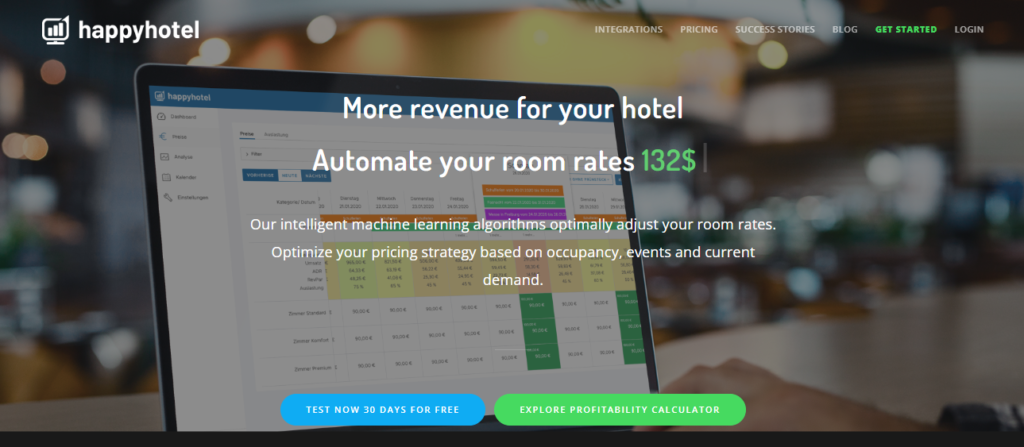 Features:
Competitive analysis
Dynamic pricing
Forecasting
Price optimization
Reporting/analytics
Yield management
Pricing:
Pricing starts from 5$ per room per month. Click here to check out the pricing in detail.
So now, you've checked out the top 10 dynamic hotel pricing software options. It's time to choose the one that suits your needs and helps boost your revenue. Want to know how to select the best dynamic pricing software for your hotel? Read further…
How To Choose the Best Dynamic Pricing Software for Your Hotel
Selecting the right dynamic pricing software for your hotel is crucial to staying competitive and maximizing your revenue.
Therefore while evaluating your options, consider the following factors:
Integration: Ensure the software integrates seamlessly with your property management system and channel managers for streamlined operations.
Ease of use: Look for a user-friendly interface that you and your team can easily navigate and understand.
Customization: Choose software that offers customizable features to suit your hotel's unique needs and requirements.
Pricing: Evaluate the cost of the software and ensure it fits within your budget, while also providing a strong return on investment.
Support: Opt for software that offers dedicated customer support to help you make the most of the platform.
By considering these factors and reviewing the top dynamic pricing software options outlined in this guide, you'll be well on your way to finding the perfect solution for your hotel. Embrace the power of dynamic pricing to stay ahead of the competition and watch your revenue soar!
Conclusion:
In this blog, we've put together the top 10 dynamic pricing software for hotels that will skyrocket your revenue and guest satisfaction.
Say goodbye to old-school pricing tactics and embrace these cutting-edge dynamic pricing softwares that take your hotel revenue to new heights.
Just Imagine packed rooms, rave reviews, and record-breaking revenue. That dream is just choosing the right dynamic pricing software away!
So, outsmart the competition and let your hotel get bookings like never before.
Frequently Asked Questions:
Most dynamic pricing software solutions generate fairly accurate pricing predictions by leveraging complex algorithms, real-time market data, and artificial intelligence. They consider various factors like demand, competition, and local events. However, for the most precise real-time hotel pricing data, the Makcorps API stands out due to its comprehensive, real-time price comparison data from over 200 online travel agencies.
Typically, hotel dynamic pricing software has clear pricing models as per the number of features provided. However, it's always good to double-check with the provider about any additional charges such as setup fees, support fees, or costs related to additional services or features not included in the chosen plan.
Yes, most of these software solutions offer integration capabilities with other hotel management systems. For instance, Pricepoint, Atomize, and RoomPriceGenie, among others, can integrate with popular Property Management Systems (PMS) and channel managers. This seamless integration allows for streamlined operations and more efficient management of pricing strategies.
Additional Resources:
Discover a selection of valuable resources that will guide you in establishing optimal dynamic pricing strategies for your hotel rooms.h