5 Yield Management Pricing Strategies For Hotels & Advantages
If you're a hotel owner or a hotel revenue manager, you've likely heard of yield management pricing strategies for hoteliers.
But if you don't know what it is, exactly? And more importantly, what benefits can it bring to your business
In this blog post, we'll define yield management and break down seven yield management pricing strategies you can use to increase profits and better serve your guests.
Let's dive in to learn everything you need to know about yield management.
What Is Yield Management Strategy & Where Did It Originate?
The Yield Management pricing strategy is the concept adopted by hoteliers for profitable hotel management.
It helps you set and control dynamic hotel pricing to control profitability around fixed inventory supply.
Flexing supply and pricing are a part of revenue management, but it has significantly become more sophisticated in recent years because of the easy availability and access to new data.
Earlier hoteliers didn't focus much on yield management techniques to get maximum guest value or TRevPAR or total revenue per available room.
But modern solutions are synchronizing such techniques with overall business strategy to manage total expected spending and contribute to total revenue management.
Ultimately, the goal of every hotel owner is to maximize the profit from all revenue streams of their hotel which can be successfully achieved through a proper hotel yield management strategy for effective pricing.
It is strategically planning room rates to optimize revenue and occupancy.
By delivering different prices to different customers in the pursuit of maximizing profits, hoteliers can get fast results in less time.
This helps in managing the overall demand and supply of rooms and allows prices to perfectly match traveler needs.
How Do Hotels Calculate Yield with Examples?
The hoteliers use a basic way to calculate yield management by a simple yield management formula –
Revenue Achieved/ Maximum Potential Revenue.
This can be learned through a simple yield management example. Let's say your hotel has 35 rooms costing 3000 Rs each.
This implies that your hotel has the potential of earning 1,05,000 (3000×35). Assuming that you sold around 17 rooms at the pricing of 2000 Rs., each, grossing Rs. 34000. Your yield is then 34000 divided by 1,05,000 or 32%, which might concern you at the present moment. But it doesn't justify the bigger picture in the long run.
To understand in-depth, check out the video to understand how yield management work:
To entertain with most bookings at the best possible rates, you will need to have a clear view of the factors that impact demand and further your bookings.
You can take an insight into the available data from your PMS and can also pull competitor data from various rate intelligence tools for hotel rate shopping and hotel pricing monitoring.
Combine and strategically plan a practical solution to manage your yield management strategy.
Use automated technology to fasten up the process and also get benefits from smart technology.
This will help you upgrade yourself and save up on efficient time while enhancing your business process.
Each Yield Management strategy must be overviewed through a broader perspective and thus accordingly must be optimized to maintain a balance between both high-demand and low-demand seasons.
Also, the yield management pricing strategy is done in advance so that rates can be optimized according to real-time situations and advance booking trends.
For instance, if you see a last-minute hike in pricing, you can optimize your pricing for further dates to sustain and avail of last-minute bookings.
Why Is Yield Management Pricing Important for Hoteliers?
If you're wondering if yield management is profit oriented or not.
Here is why you should incorporate yield management in it:
The Importance of Hotel Yield Management Strategies is quite high and can help boost your profitability.
You can use it efficiently to harness demand and ensure that you make the most out of your money.
With high fixed costs, you must be most concerned about generating higher profits to meet up the expenses.
Thus, yield management processes are a critical piece of profitability that can effectively help you strategically plan your revenue generation.
With continuous changes in demand and supply of inventory, it is essential that you maintain a balance in your costing and earning so that an optimum balance of profit can be deduced.
Best Yield Management Pricing Strategies That Every Hotelier Should Give A Try
1. Add Value with Hotel Promotions
To compete with just your pricing, your hotel must be competitive enough and should adopt an attractive marketing strategy that adds value with hotel promotions.
Trying and connecting with your target audience is the best method to do so.
Thus, you can offer some exclusive benefits and stay-in experience which helps in capturing their attention.
This strategy will not just only help you to stand apart from your competitors but also is a great customer retention strategy.
2. Use a Hotel Price API
Another uncommon yet effective yield management pricing strategy is to use a Hotel Price API that helps you get real-time pricing updates in the hotel industry. Plus, if you wanna go even deeper in the analysis by using a historical hotel price data API you can get the past 3 year's pricing history of your competitors.
A Hotel Price API is a web-based hotel rate shopper that searches and compares pricing from hundreds of OTAs and comes back with the most optimum result.
This helps you effectively take note of the current pricing trends and also of competitors' pricing strategies which can further help you formulate a suitable yield management strategy.
This can help you save up your precious time and effort, boost the entire process and maximize revenue. One such hotel rate shopping tool is Makcorps Hotel API which helps you attain fast results through 200 plus OTAs in a single-get result.
3. Adjust to Seasonal Demands
Adjusting to seasonal demands to generate profits is the most crucial strategy that you must adopt.
It is important to note when your customers enjoy the stay most and accordingly increase your pricing during the peak season.
Also, during the off-season, you can try and recreate the feel of what your customers enjoy the most at your property.
Try and provide it in special membership programs to make your customers feel privileged. This can leverage the business profits and earn great brand visibility.
4. Enhanced Hotel Amenities
Demand for hotel amenities varies timely just like locations.
You can increase the pricing for high-demand amenities and accordingly create special packages for low-demand packages to attract customers.
You can also adapt to some high-demand services and provide the guests with exactly what they are looking for.
5. Dynamic Pricing Strategy
Dynamic Pricing Strategy is the key to earning higher profits which must be involved in Yield Management Pricing Strategy.
No matter what kind of hotel you are in, you should always review your pricing strategies and occupancy forecasts.
The practice of using flexible rates for a hotel room or service according to changing market demand is known as dynamic pricing.
Thus you should substantially increase the rates when there is a high demand and decrease when the demand is low to increase the occupancy rate in hotels.
Benefits of Yield Management In Hotel Business
If you're yet not sure about the importance of yield management for your hotel business. Here is the advantage of yield management to open your mind to the possibility of profit you can gain from yield management.

1. Easy To Use Process
The benefits of yield management for hotels don't just end in a single benefit.
While you can maximize yield by working with operations to reduce expenses, yield management is more straightforward and doesn't take a village to accomplish.
You can easily put the data on autopilot with minimum intervention.
2. Understand Customer Behavior
Another benefit of yield management for the hotel business is understanding the booking patterns of customers and accordingly adjusting their prices to generate maximum revenue.
For instance, you can increase the pricing for last-minute bookers and during high season as well.
Similarly, provide economic benefits to the customers who book in advance to create a sense of great customer support and earn loyalty.
3. Create High Brand Value
Customers are willing to pay more during peak season and adjusting your pricing accordingly helps them to perceive the higher value of the hotel.
This helps customers to create a designated value for the property and encourages them to book in advance thereby contributing to enhancing our marketing strategy.
Creating an infallible strategy that attracts guests to your hotel like anything, needs a solid hotel competitive analysis.
4. Eliminate Pricing Errors
Using an innovative pricing technique ensures that there are no pricing errors or issues.
Since the prices chosen are based on demand forecasting, the hotel price tracking process now can be automated through technology like hotel aggregator API bringing hotel management into the future.
With a clear set of data from software integrations, you can now easily choose the best room rates for a particular time.
5. Better Customer Segmentation
Targeting customers based on accurate customer segments is the key to effectively marketing your business.
You can attain benefits by effectively segmenting your customers according to their set patterns of profitable booking and optimizing different pricing strategies for them.
Also, since every guest has different requirements, you can adjust your pricing according to multiple factors. Yield Pricing can help you attain a better customer segmentation and accordingly use it to boost profitability.
What Is the Difference Between Yield Management & Revenue Management?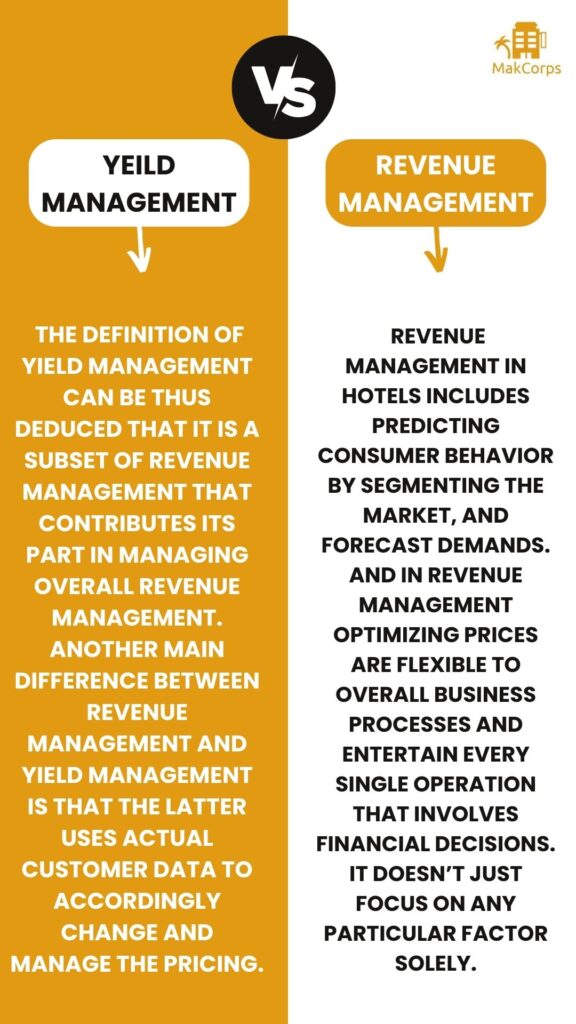 Although Yield Management and Revenue Management go hand-in-hand, their meaning stands quite different from one another.
Yield Management Pricing refers to focusing exclusively on the hotel's optimal balance of supply and demand for rooms. It is the point where prices perfectly match travelers' demands.
It helps in optimizing your room rates strategy in such a way that you can benefit from the highest number of bookings at the highest possible price.
Another main difference between revenue management and yield management is that the latter uses actual customer data to accordingly change and manage the pricing.
On the other hand, Hotel Revenue Management includes predicting consumer behavior by segmenting the market, forecast demands, and optimizing prices for several types of products and services.
It is flexible to overall business processes and entertains every single operation that involves financial decisions. It doesn't just focus on any particular factor solely, rather it tries to enhance future and present decisions to benefit the entire organization.
What Are The Challenges Hoteliers Face Through Yield Management?
One of the major challenges that hoteliers face in yield management is that since decisions are driven by numbers and forecasts, there is no preferential treatment for regular customers.
Prices keep on changing according to season and demands and don't hold any special privileges for the regular guests.
Another challenge is that since the yield management pricing strategy is solely focused on increasing the profits of hotel owners, it doesn't take customer expectations into consideration.
Also, there is always a possibility of not forecasting well.
For the forecast, hotels must gather data, organize it, and coordinate with the revenue managers to implement it effectively into the pricing system.
However, there are a number of factors that come into play that can jeopardize the forecast thereby affecting revenue.
Thus, there is a possibility that the yield management strategy might not hold up well against the actual market trends.
Conclusion:
After learning about what is yield management pricing strategies for hotels and how it works, we can conclude that their advantages far outweigh the disadvantages.
Of course, it is not a perfect system, and there is room for errors at certain times, but you can still use it to simplify and enhance your business process.
You can further increase your profitability by implementing effective yield management techniques with little investment.
Furthermore, the dynamic pricing strategy helps to better reach different segments in the market and leaves scope for the highest-price guests to choose a stay according to their preferences.
Rather than just covering the mere costs, you can effectively earn profits through yield management strategies to set prices.