Hotel Competitor Analysis: How to Do & Why Does It Matter
Competition has significantly increased in every other industry and has forced many business owners to adopt different strategies to stay ahead in the competition. The hospitality industry also suffers from cut-throat competition for which it is important for hoteliers to adopt a suitable Hotel competitor analysis to get an edge in the market. A competitor analysis starts by understanding your competition in the nearby area and all the different amenities they are offering to attract more customers to their business. This is important to devise a winning strategy that will help you set yourself apart from your competition and attract more customers to increase profitability. In this article, we will cover all about hotel competitor analysis, how you can do it for your business, and why it matters. So, begin the block to know more about the term.
What Is Hotel Competitor Analysis?
A Hotel Competitor Analysis is a strategy that hotels adopt to evaluate and compare their services and pricing within the same region with their competitors. This helps them to make an effective decisions for the future and generate a feasible amount of profitability. Also, it gives them an insight into the different services, pricing, and other factors that their competitors offer. This way hoteliers can assess how well they are doing against their competition.
The hotel industry competitive analysis is the right method to maintain a suitable brand image among your customers and also with the chance to stand one step ahead of the competition. There are generally four to five different competitors of hotels at a particular location which needs to be kept in mind while doing the analysis.
What Is a Hotel Comp Set & How to Identify It?
A hotel comp set is a group of five or six hotels that a majority of potential guests compare with your property while choosing an optimum stay. These are generally the set of hotels that you majorly want to get an insight into in the nearby area. This will give you the leverage to accordingly optimize your business strategy and attract more customers to your property. These comp sets are typically the hotels you compete against in the immediate area. Such competitive set analysis examples include hotels with the same star ratings and hotels that have similar amenities like pools, restaurants, suites, etc., and much more.
How Do You Identify Your Hotel Competitors?
To identify your hotel competitors, it is essential that you are well acquainted with your strengths and weaknesses. List the key features and benefits your property offers and compare those to the benefits of area hotels. Your major focus should be on the area hotels that are similar in size and offer similar amenities. You must know that successful sales strategies are centered on accurate comp set breakdowns. This is why you must take time and do your research well while taking the assistance of other employees. Here are different tips to identify your hotel competitors: –
1. Feedback Is a Must
While processing any new booking you can include an optional survey to get honest feedback from the visitors. You might ask them about their previous experiences in the area, things they loved about their large group stay, and what they would like to improve. This type of feedback will help you to identify booking patterns and also to recognize new opportunities.
2. Subscribe To Emails
To keep a close eye on your competitors, you can subscribe to all of your competitor's newsletters. This will help you to recognize their strategy and how they use emails to stay at the top of the mind of their guests. Also, you will be updated with any new promotions and news that they are using at the present time.
3. Checking Competitors' Websites And Blogs
You must go through your competitor's websites each month and read their blogs on a regular basis. This will provide you a comparative analysis of what they are offering to that of your own. If you come across a particular amenity that is becoming a major selling point, you can take note of it. Think of something else that would solve the similar problem of the customers and also helps you stand out from the competition. This is an effective method to constantly check up on what's trending in the current market industry.
4. Monitor Fluctuating Pricing
For an effective pricing strategy, you must be acknowledged your competitor's pricing on a day-to-day basis. With hotel database API you can Hotel pricing monitoring on daily basis to notice patterns among your competition. You might find some hotels that consistently drop their rates in the evening while others do in the morning. Also, you'll be able to identify the best results obtained through both of the strategies. Accordingly, choose a perfect fit for your hotel to maximize your profits. This will also keep you updated with the price hikes to substantially increase your hotel occupancy rate.
Read: How Does Hotel Room Pricing Work?
5. Design your own package
While monitoring your competitors, you will come across different packages that they offer to their guests in special cases. These can be meeting packages, food and beverage packages, welcome baskets, and much more. Create a unique and affordable package of your own that will help you stand out from your competition in the respective area. Inclusive packages are a great option to attract more customers to your hotel as it becomes easy for customers to avail of the benefits instantly.
Importance Of Hotel Competitive Analysis To Get Ahead
Hotel market analysis holds great importance and helps any hotel business to get ahead in the competition. Performing a hotel competition analysis helps hoteliers to devise a plan that not only improves services but also formulates a scalable plan of action in case of future expansion. And this could only be done when you have a thorough understanding of major competitors in the hotel industry and their offered services.
Apart from this, a hotel competitive analysis will help you to devise your hotel's unique value proposition. To achieve an edge in the market, you must possess something different and useful to attract customer attention.
How to Do Competitor Analysis for Your Hotel?
1. Pricing Analysis
Nothing is more important than understanding your competitor's pricing strategy. Having the right price will make or break your business and even the slightest difference from your competitors can help you achieve the advantage in getting more bookings. This is why understanding your competition's pricing strategy, conducting competitive pricing analysis for hotels, and keeping an eye on when they lower or raise their prices is the right start. One of the easiest methods through which you can keep an eye on competitors is by using a hotel price API.
One such hotel aggregator API for price analysis is Makcorps which helps you monitor the real-time pricing of your competitors. It instantly crawls through 200+ OTA platforms and comes up with the best results in a single get query. So, for instance, if you want to look at the current pricing of all the hotels in your nearby area, you can use Makcorps price comparison API, to instantly catch up on the pricing strategy of your competitors.
2. Swot Analysis
Swot Analysis which is also known as competitive grid analysis is a measurable plan of action used by hoteliers to get an understanding of their own strengths, weaknesses, opportunities, and end threats By gaining such an understanding, you can easily identify what threats are presented by the competition to turn those threats into opportunities. While on the other hand, strengths and weaknesses are the internal part of the organization, and threats and opportunities are the external factors that can be regulated and used to their advantage. In this way, you can easily optimize your business functions accordingly to achieve a competitive advantage. Hotels swot analysis examples include –
Understanding Strengths – Our hotel has a better and bigger pool and other leisure amenities.
Weaknesses – Our booking system is quite slow.
Threats – Competitors might have smart technology for the booking process that we don't have.
Opportunity– Getting updated with the latest booking technology.
As you can see from the example, we have turned our weaknesses and threats into an opportunity to upgrade our hotel system and attract more customers for the booking.
3. Social Media Analysis
In the new era, social media analysis plays a great role in doing a competitor analysis for your hotel. You can find the social media handles of each competitor hotel and observe the quality of their content and the frequency of posting it. Also, you can get an insight into their engagement of audiences to optimize the strategy of your own. If they are active but not engaging with their audiences, you can use the opportunity and start engaging with your customers through different social media handles. Try running different contests, giveaways, discounts, offers, live sessions, and polls, to engage with your audience.
Strategies to Win Over Your Hotel Competitors?
Here are some of the strategies to win over your hotel competitors and gain an edge.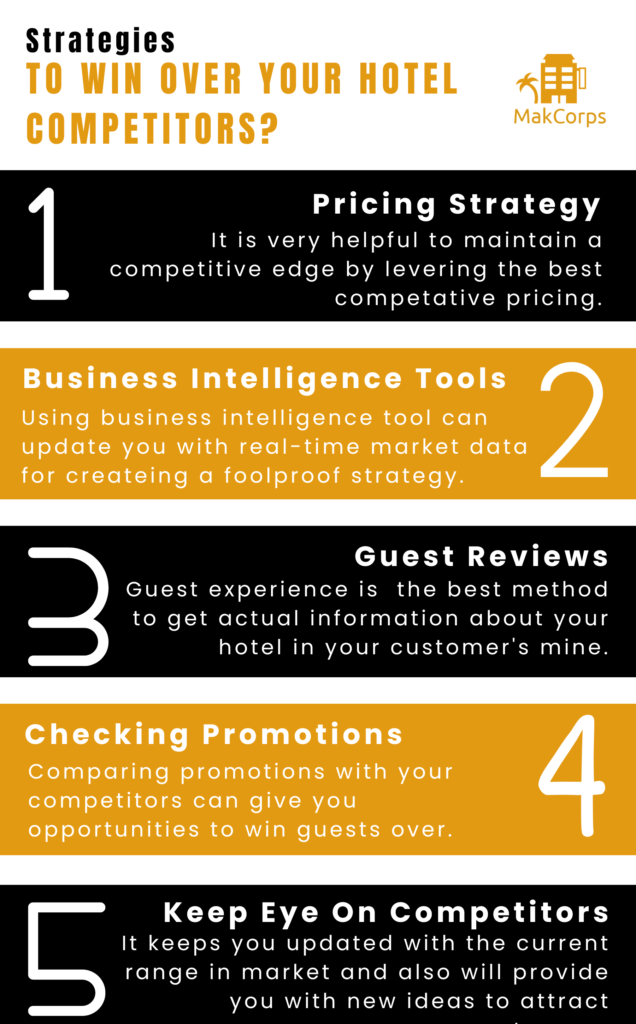 1. Pricing Strategy
It is very helpful to maintain a competitive edge when you have a clear insight into the rates of your competitors on a regular basis. This is why hoteliers use different price intelligence tools and yield management to optimize their pricing strategy. Using yield management is one of the most accurate methods to not just only forecast your pricing and demands, but actually calculate the demand forecast based on the real-time data and deduce a suitable pricing strategy for the year around.
2. Hotel Business Intelligence Tools
Using a hotel business intelligence tool can update you with real-time market data, and know-how about the current trends in the industry. You can use this valuable information to always make the right pricing decisions and remain competitive in your field.
3. Guest Review is Important
Guest experience is usually the best method to get actual information about your property's image in the mind of the customers. This is one of the efficient ways through which you can make useful improvements in your hotel. Also, customers might get a good indication about your hotel if you want to include their suggestions in your improvements. You can assign your frontline staff to constantly take feedback from the customers staying in the hotel. Providing customers with actually what they want would immediately provide you with a great competitive start.
4. Checking Promotions Is Necessary
Comparing promotions with your competitors can give you opportunities to win guests over. Thus, it is essential that you constantly check your competitors and keep an eye on their promotional strategy. For instance, if they are providing a particular deal for two days, maybe you can take advantage and provide your customers with the same deal for three days. But meanwhile, don't forget to check whether the promotion strategy aligns with your overall budget or not.
5. Keep An Eagle's Eye On Your Competitors
For an effective competitive analysis strategy, the key is to keep a constant eye on your competitors and check upon every action that might interest customers. This will keep you updated with the current range of the market and also will provide you with new ideas to attract customers.
Conclusion
Conducting a perfect hostel industry analysis is not a cup of tea for everyone and requires a lot of effort. But by following our guide one step at a time you can get the leverage to set your business operations in a profitable manner. Conduct a swot analysis to get a deeper understanding of your business and also about your competitors to accordingly optimize your business strategy. Don't forget that merely copying your competitors would not give you much result.
Setting apart your own unique vision in front of the customers with the best possible amenities can help you shape your winning strategy. And since we are conducting a competitive analysis, one thing that truly matters is continuously watching your competition to maintain a positive brand image in front of your customers. Adopt the above-mentioned strategies and build a powerful hotel brand image.