Common Challenges OTA Faces & Their Solutions 2023
The travel industry has grown rapidly in recent years with the increasing popularity of online booking agencies and the convenience it offers to customers.

However, the industry also faces several challenges, including intense competition and the need to meet up the ever-changing demands of customers.

But to cope with those challenges of Online Traveling Platforms in 2023 requires effective solutions.
In this article, we have listed down some of the common challenges faced by OTAs along with potential solutions for them in 2023.
Common Challenges Faced by OTAs
The common challenges faced by OTAs that make their daily activities and operations more complicated are –
1. Competition From Other OTAs And Travel Aggregators
One of the biggest challenges facing OTAs is the intense competition in the industry. With the rise of online booking, more and more companies are entering the market and making it increasingly difficult for OTAs to stand out. 
This competition is further exacerbated by the presence of massive travel aggregators and other booking engines, such as TripAdvisor, Expedia & Booking.com which have well-established brand recognition and a large customer base, which can make it difficult for new or smaller OTAs to gain market share.
2. Dependence On Third-party Suppliers
Another major challenge facing OTAs is their dependence on third-party suppliers such as hotels, airlines, and rental car companies. These suppliers often have their own reservation systems and may offer exclusive deals to customers who book directly with them.
This can make it difficult for OTAs to access the best deals and can also lead to issues with inventory management.
3. Rising Costs Of Customer Acquisition
OTAs are facing increased costs of acquiring new customers. With so many companies competing for customers, it can be expensive to attract new customers through advertising, promotions, and other marketing efforts.
Additionally, with the rise of social media and mobile, customers are increasingly expecting to be able to book travel services on the go and to receive recommendations from friends and family.
4. Difficulty In Differentiating Their Offerings
With so many OTAs in the market, it can be difficult for customers to distinguish between them. This makes it difficult for OTAs to differentiate their offerings and attract customers through competitive pricing. 
5. Keeping Up With Changing Consumer Demands And Preferences
The travel industry is constantly changing, and customer's demands and preferences are evolving. With the rise of mobile and social media, customers are increasingly expecting to be able to book travel services on the go and to receive recommendations from friends and family.
Increasingly, consumers are becoming more attuned to environmental issues, driving a rising demand for sustainable travel options. This shift in consumer behavior presents unique challenges to Online Travel Agencies (OTAs).
Solutions for Common Challenges
But with emerging challenges, we have come up with some of the most practical solutions that can help you enhance your business functions.
1. Utilizing Price Intelligence Technology To Improve Customer Acquisition And Retention
OTA platforms can use hotel rate intelligence tools as a solution to monitor real-time pricing on different OTAs of different hotels as per their query to come up with the best pricing.
One such tool is Makcorps Hotel Search API which you can use to track the hotel prices from 200 plus OTA platforms and features the best prices on your own platform.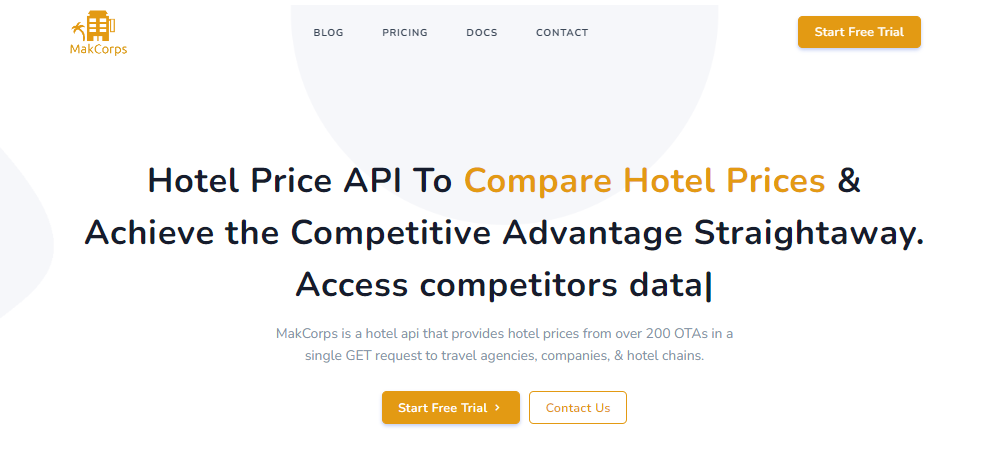 It will help you to acquire and retain more customers by offering competitive prices for the same set of hotels. This hotel pricing API also tells you about the current pricing trends in a particular area so that you can accordingly set competition-based pricing to improve customer acquisition and retention. 
2. Developing A Strong Brand And Unique Value Proposition
By developing a strong brand and unique value proposition you can get the advantage of customer loyalty and higher customer retention.
In this ever-rising competition where everyone is looking to steal away your customers, it is important that you maintain a strong brand image to keep your customers bonded with you. 
Set a unique value proposition for your customers so that they keep coming back to your brand pleased with your excellent services. OTAs need to find ways to stand out from their competitors, such as offering exclusive deals or specialized services.
3. Building And Maintaining Direct Relationships With Suppliers
Building direct relationships with suppliers can help improve efficiency and customer satisfaction. OTAs need to focus on building strong relationships with suppliers and finding ways to access inventory that is not available to other OTAs.
4. Creating Personalized And Seamless Customer Experiences
Creating a personalized and seamless customer experience will help you enhance customer satisfaction enabling them to return back to your site. Customers don't only remember exceptional customer services, seamless booking experiences, and engaging loyalty programs but also come back when they have a memorable and hassle-free experience.
Thus, providing them with everything they require on a single platform and making the entire process much simpler for them will help you to pull back customers to your platform.
5. Being Proactive In Identifying And Adapting To Industry Changes And Trends
OTAs need to keep up with the changing demands and preferences in order to stay competitive. Thus, being proactive in nature to identify and adapt to industry changes and trends is an optimum solution for them to remain ahead and maintain a strong customer relationship.
This will help you to provide your customers with an amazing service and brand experience and will help you in better customer retention.
Conclusion
In conclusion, there are several solutions that can be implemented to address common challenges in the travel industry. By implementing the strategies mentioned above, travel businesses can stay competitive and meet the evolving needs of their customers. They can ensure that hotel room rates provided by them are competitive and attract customers to their platform.