How To Increase Hotel Occupancy Rate? Clearly Explained!
Staring at empty rooms?

Can't hear the satisfying chatter of guests?

We know, for hoteliers, it's like a nightmare.

But don't worry, you can turn this around, and for doing so we are here to help you increase your hotel's occupancy rate.

Welcome to your roadmap to ramping up your hotel's occupancy rate.

No more empty rooms, lobbies, or silent dining halls.

We've got you covered with practical, proven strategies to fill those vacancies and ignite the buzz of a bustling hotel business.

No quick fixes or false promises, just real game-changers.

Let's start with understanding what is occupancy rate in hotel and how does it work.
What Is the Occupancy Rate in Hotel?
The rate is usually derived by calculating how many rooms an average hotel has to the total number of rooms occupied on a particular night.

For example: Think of a hotel with 100 rooms. If 75 rooms are occupied on a specific night, the occupancy rate for that night is 75%. Simple as that.
This is quite important for hoteliers to understand average occupancy in hotels for a longer period. It provides them an insight into the overall profitability by calculating RevPAR ( revenue per available room ) and other operational factors.
Generally, revenue managers use the RevPAR formula to calculate occupancy rates and overall profits and accordingly optimize their further strategy.
Also, it helps business owners to formulate a suitable business strategy and accordingly occupy more rooms per night to generate profitability.
You can examine your hotel occupancy rate weekly, monthly, or yearly, as per the requirement of the business.
The higher your occupancy rate, the more your rooms are booked, and the busier the hotel is.
But since, Occupancy rate keeps on fluctuating depending on the season, weather, political, and economic conditions, revenue managers must come up with a suitable strategy to derive a better occupancy percentage.

Before you start creating the strategy, learn the correct way to calculate hotel occupancy percentage.
How to Calculate Occupancy Percentages in Hotels?
To learn how to calculate occupancy percentage in hotels, you must be aware of two pointers.
The first one is- the total number of rooms that you have on your property, and the second is – how many of them are filled on a given night (including single or double occupancy).
After getting a hold of these two important factors you can simply apply the hotel occupancy formula – the number of rooms booked divided by the total number of rooms at your property (The no. of Rooms Booked/ Total Number of Rooms.)
To understand how to calculate hotel occupancy rate in percentage watch this video for a depth explanation:
Some businesses operating with a bigger chain of hotels and having branches in different areas might use Hotel Occupancy Calculator.
As it is not possible and wise to manually calculate and asses the rate, using a smart solution is the right choice.
This provides them with hotel occupancy rates by month, city, and state, all in an efficient manner. It helps hoteliers with fast and error-free results and also simplifies the whole process
These bigger chains then analyze and evaluate their hotel average occupancy rate according to guest cycle in hotels to further plan and build a suitable business strategy and maximize profits. Based on the results, they might run special promotions, increase their hotel prices, or adopt any other kind of strategy that is suitable for the business.
So, now that you know how to find hotel occupancy rates, let's further understand why it matters for your hotel.
Why Is Occupancy Rate Important?
The occupancy rate is the pulse of your hotel.

It tells you how much of your capacity is being utilized, which directly affects your revenue and profitability.

A high occupancy rate means your hotel is popular and profitable.

On the flip side, a low occupancy rate could signal trouble. It may suggest that your hotel isn't appealing to enough guests, or that your marketing efforts aren't hitting the mark.

For example: imagine running a 100-room hotel where each room, when occupied, brings $100 per night. If only 50 rooms are filled, you're earning $5,000 a night. But, with a strategy that increases your occupancy to 80 rooms, your earnings shoot up to $8,000 a night. That's why keeping a keen eye on your occupancy rate is crucial to your hotel business.

So, now you know why as a hotelier you should make efforts to increase your hotel's occupancy rate.
How to Increase Occupancy Rates in Hotels?
Here are a few proven strategies to increase hotel occupancy rate: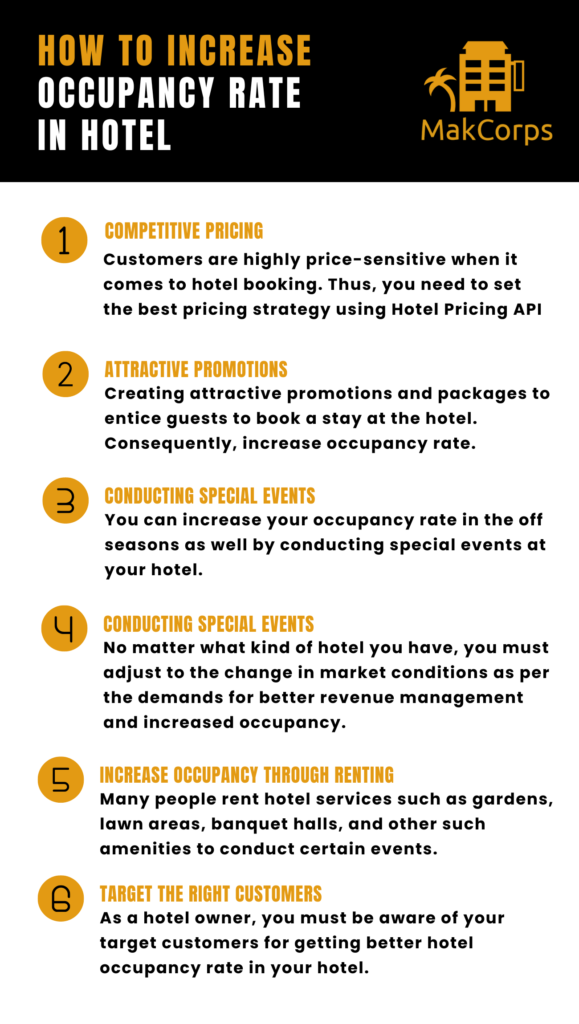 1. Competitive Pricing
When it comes to setting competitive pricing, the importance of hotel pricing intelligence becomes massive.

Because pricing is the most important thing hoteliers need to get right.
Customers are highly price-sensitive irrespective of the field you are working in.
Thus, playing with the pricing to attract more customers is a good strategy to increase the hotel occupancy rate.
Providing competition-based pricing can help your hotel increase its occupancy rate and an edge over your competitors.
But to maintain competitive pricing you must be aware of your competitors and their pricing strategy to put your foot forward.
For such purposes, you can use a price intelligence solution Makcorps Hotel API which provides pricing data of competitor's hotels as per your desired time frame, location, and hotel name.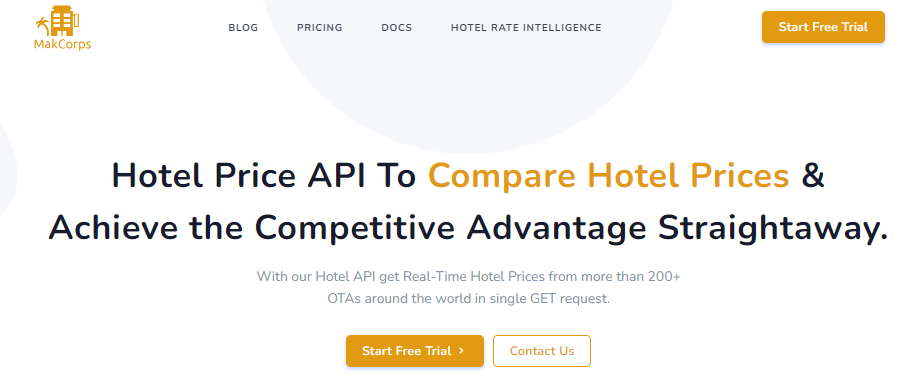 If you're curious to learn how can you get hotel competitor's pricing data for any given location. Watch this video:

2. Attractive Promotions And Packages
Offering attractive promotions and packages entice guest to book a stay at the hotel.
This is another wonderful strategy you can use to attract more guests to your hotel and increase hotel occupancy rates.
Through such attractive packages, you can even lure them to stay for an extended period or travel during off seasons.
Promotions that include any kind of hotel's free services motivates guests to take advantage of the situation and book their stay at your property.
This gives you an upper edge over your competitors while creating a strong customer relationship. It's a win-win hotel pricing strategy.
3. Conducting Special Events
You can increase your occupancy rate in the off seasons as well by conducting special events at your hotel.
Each event organized provides you a chance to upsell additional hotel amenities like rooms, dining options, or leisure activities.
You can even take advantage of a local event which usually draws guests from all over the world.
Partner with various event sponsors to set up special promotions for booking the hotel at a discounted price.
This provides your sales and marketing team with great marketing opportunities as well as results in an increased hotel occupancy rate.
5. Dynamic Pricing Is The Key
Dynamic pricing strategy is the main tool that every hotel must use for better occupancy rates.
No matter what kind of hotel you have, you must adjust to the change in market conditions as per the demands for better revenue management and increased occupancy.
Through constant hotel pricing monitoring, you can set flexible pricing based on the market demand which allows the hotel to maintain occupancy rates even in the off seasons as well as also with the opportunity to increase revenue generated per room when the demands get high.
6. Increase Occupancy Through Renting
Many people rent hotel services such as gardens, lawn areas, banquet halls, and other such amenities to conduct certain events.
Many couples choose to have intimate weddings and thus rent hotel services for the same.
You can create special packages for such events and increase your occupancy rate through renting.
Also, businesses need big spaces to host parties, conferences, events, and product launches which could further drive a lot of business generated through the opportunity.
By renting the hotel's facilities and making use of them for different purposes, hotel business owners can successfully increase their mid-week revenue and further overall profits.
7. Target The Right Customers
As a hotel owner, you must be aware of your target customers for a better revenue generation strategy.
For instance, the corporate segment is a good target to increase the occupancy rate midweek.
Furthermore, business clients often return to the same location to conduct their meetings around the year.
This provides you with an opportunity to catch up on repeat guests (loyal customers) and maintain your booking rates.
Similarly, targeting families, tourists, friend groups, and weekend guests on the weekends would be the right choice.
Select the right target at the right time to efficiently work on your occupancy strategy.
Now that you're aware of the strategies to increase your hotel's occupancy rate, it's time to prepare a plan to put them into action. Don't forget to check out the factors that affect occupancy rates to avoid disappointment along the way.
Factors That Affect Occupancy Rate in Hotels
Both internal and external factors affect occupancy rates in hotels and must be kept in consideration by the revenue manager.
All such factors include –
1. Hotel's Type And Location
A hotel's type and location are powerful factors that significantly affect the occupancy rate at a particular property.
If the location of the property is somewhere near the key attractions of that particular area, then there is a high chance that its occupancy rates will be much higher.
Also, people today consider good quality hotels with better amenities and facilities for booking.
So, if your hotel type matches well with the expectations of the guests, then it is likely that you will experience a much higher occupancy rate.
2. Room Rates
Another dimension that reasonably affects your occupancy rate is varying hotel room rates.
Which is also considered a room-related occupancy cost.
If you keep on with high pricing for rooms, the chances are that you will have a lesser occupancy rate as compared to your competitors. If you don't want that to happen use this Hotel API to set a result-driven hotel price positioning.
Since customers are highly price-sensitive, they prefer booking only in hotels conducting special discounts or offers.
This is why introducing special discounts in the off seasons and lowering the pricing will significantly help to achieve high occupancy rates.
3. Online Reputation
Your online reputation makes a significant impact on potential customers and thus affects your occupancy rate.
Travelers are proactive in nature and thus search for their stay online.
Your online presence and how you engage with your customers can reflect a lot about your brand and can decide whether you will portray a positive image.
Thus, it is important for hotels today to manage a great online reputation to attract major business through such platforms.
4. Availability of Amenities
The different types of amenities available in your hotel can help you lure customers toward your property and thereby aid in higher occupancy.
Possessing amenities such as bigger swimming pools, spa treatments, indoor activities, etc., that provide you an edge over your competitors significantly makes a difference in attracting bookings.
Thus, you can utilize and maintain special amenities and other effective hotel services to keep a pleasant stay experience.
External factors such as seasonal shifting demand is another vital factor that affects your occupancy rates.
For instance, if summers are the best time to travel in your area, then there must remain a higher demand during the summer season.
This further decides and increases your occupancy rate in the peak season.
On the other hand, you might face difficulties in keeping up with the same occupancy rate during off seasons such as in winter.
This fluctuating demand caused by the seasonal shift largely decides the flow of guests.
Frequently Asked Questions:
Conclusion
After understanding hotel occupancy rates, how to calculate them, and why they are important, we hope that you will be able to make better revenue management decisions to increase your occupancy rates.
While increasing the occupancy rate is quite important yet hoteliers must not compromise on their optimal price to achieve a higher occupancy percentage.
It's always better to maintain a balance in your pricing strategy throughout the year to enhance the average daily rate.
Only through such proactive planning, you will be able to get the most out of your property while maximizing your profits.
You can improve your rates by taking note of the above-mentioned strategies such as conducting events, targeting the right audience, releasing special discounts and promotions, and much more.
But before finalizing any particular hotel revenue management strategy, every revenue manager needs to take the different factors into consideration that might affect the occupancy rate in hotels.
Additional Resources:
Here are a few resources that you might need on your journey to increase your hotel's occupancy rate: