Hotel Revenue Management Strategies: 5 Tools & Importance
Every business survives on revenue generation and profitability in this tech-forward competitive world. But strategically planning and boosting revenue management provide you the leverage to stay ahead of the competition.
It is something hoteliers thrive to achieve through dynamic pricing strategies and analyzing fluctuating demands.
In this article, we have covered everything about Hotel Revenue Management strategies and how it can help you upscale your business and attain higher profits.
Also, learn about the latest trends, strategies, and tools that will be your best friends along the journey.
What Is Hotel Revenue Management?
It refers to the sum of different procedures and techniques adopted by hoteliers to predict customer behavior and demand forecast in the future.
How much revenue does a hotel generate can largely get affected by the right kind of hotel revenue management process?
For example, when hoteliers lower their pricing and provide discounts to attain maximum bookings in off-seasons is a hotel revenue management strategy.
Similarly, price hikes during the high-demand season to maximize profits are also a part of revenue management.
For a smooth revenue management process, hotels adopt multiple strategies like the yield management strategy and getting the highest yield by more efficiently and intelligently pricing inventory.
It is an inventory-centric approach that hoteliers use that matches the right product with ideal customers at the best possible rates.
To learn how revenue management is done in excel watch this video:
How Has Revenue Management in Hotels Evolved?
It all started with airlines who understood that segmented prices carried more value rather than across-the-board pricing.
Offering discounts on tickets that were booked 21 days in advance showed them the capacity to generate more profits through intelligent pricing.
It was all about getting the highest yield more efficiently through strategically pricing their inventories.
Both airlines and hotels have perishable inventory which can't be sold once the flight has taken off or the night has passed.
Thus, it immediately caught up the attention of hoteliers and forced them to experiment with yield management.
Hence, hotel revenue management principles and practices became more intentional about optimizing room revenue and occupancy.
Through variable pricing strategies based on demands, market conditions, and time of booking, they eventually got the hold of term revenue management.
And this is how revenue management in hotels evolved.
Why Is Revenue Management Important In Hotels?
Often the importance of revenue management in the hotel industry is ignored and the least understood part of the property.
But Revenue Management is quite important in hotels in several ways and can help in its success –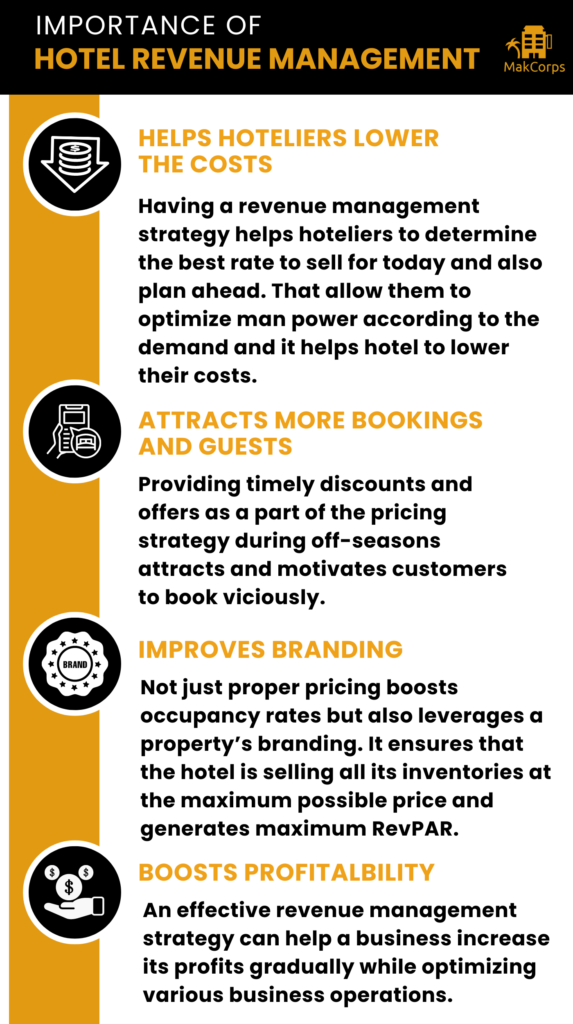 1. Helps Hoteliers Lower Costs
Pricing in hotel revenue management plays a key role. Booking trends are dependent on variable factors that constantly fluctuate and affect the overall hotel room pricing of a particular property.
These factors involve seasonal demands, the average age of travelers, region, and so on. As a result, the best pricing for a room today will be different from the optimal rate tomorrow.
Hence, having a revenue management strategy helps hoteliers to determine the best rate to sell for today and also plan ahead.
By tracking hotel prices and optimizing manpower for the high-demand season and avoiding over-staffing during lower demands, hotel owners can significantly lower their costs.
2. Attracts More Bookings And Guests
Revenue Management for the Hospitality Industry helps business owners to attract more bookings and ideal guests.
Providing timely discounts and offers as a part of the pricing strategy during off-seasons attracts and motivates customers to book viciously.
Repeat customers are a lot more lucrative than new ones as it costs more to reach out to new customers every time.
The right customers provide you with the greatest long-term value for the property's future.
The revenue Management process helps business owners to choose better marketing campaigns that attract ideal customers to the property.
3. Improved Branding
Effective utilization of revenue management strategies can play a significant role in enhancing a hotel's brand image.
Not just proper pricing boosts hotel occupancy rates but also leverages a property's branding.
It ensures that the hotel is selling all its inventories at the maximum possible price and generates maximum RevPAR.
Also, Check out the term: ADR
And when such activities are carried out effectively for any business, its brand image automatically improves allowing further bookings.
4. Boosts Profitability
Hotel Revenue Management Goals are centered on boosting profitability.
Thus, an effective revenue management strategy can aptly help a business increase its profits gradually while optimizing various business operations and pricing strategies.
ROI tends to increase every year without additional investments in marketing campaigns to attract new customers.
Thus, you can increase your property's value significantly through an optimized revenue management strategy.
How To Set The Right Pricing Using Hotel Revenue Management Strategies?
Setting effective Pricing Strategies in Hotel Revenue Management can be a daunting task that must be done carefully to obtain high-end results.
For this, you must align your business strategy, goals, and budget with the overall management process.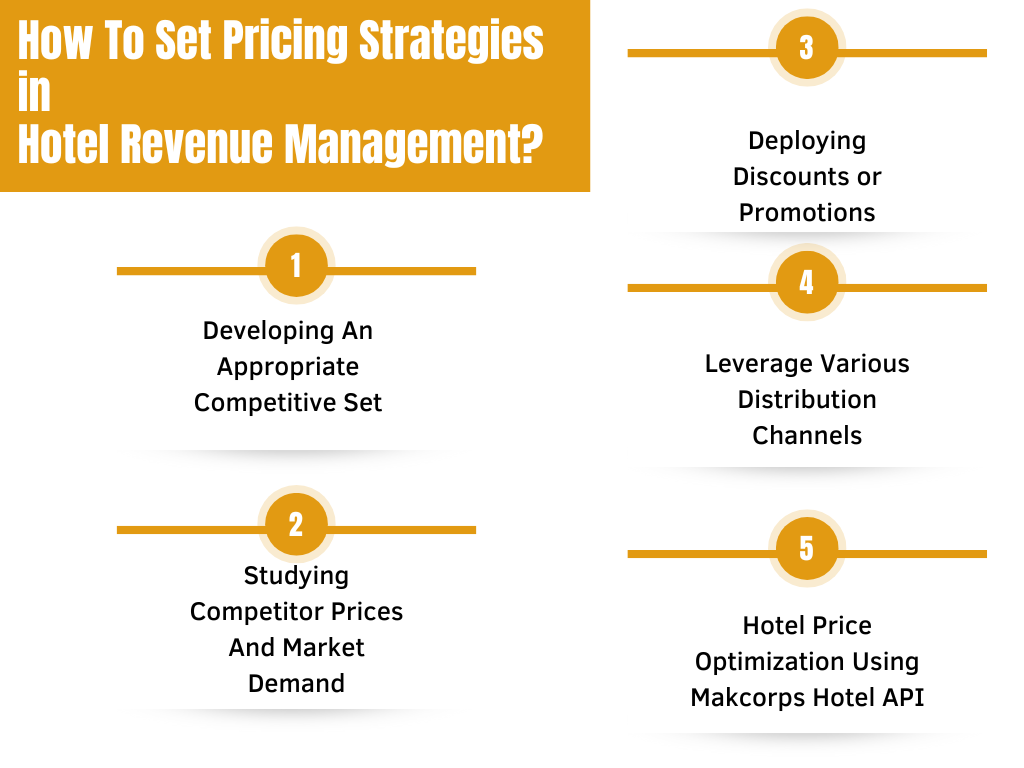 1. Developing An Appropriate Competitive Set
The first step while setting pricing strategies is to develop an appropriate competitive set of revenue management strategies by taking a look at the present scenario.
Before making any changes, it is crucial that you have an overall knowledge of current working patterns and look for areas of improvement.
Based on your research, create a competitive set that helps you stay ahead of the competition and will give you an edge to stand still even in tough times.
A fair understanding of your strengths and weaknesses will help you to identify opportunities for improvement and create an informed revenue management strategy.
2. Studying Competitor Prices And Market Demand
A profitable revenue management strategy would only work when you focus on factors like seasonal changes and demand fluctuations.
You must identify major demand generators for your locality and analyze the travel patterns of guests for a better and more detailed understanding of the strategy.
Also, you must be updated with peak and off seasons to accordingly maximize rates and also to plan an optimum pricing strategy for off-seasons.
Apart from just keeping an eye on the market trends, you must be aware of your competitor's strategy.
This will give you an insight into the plans that might be even useful for your business to attract more guests.
Also, it will give you the leverage to get a catch of whether your competitors are putting a lower price than the average market or not.
3. Deploying Discounts or Promotions
Using a dynamic pricing strategy is very crucial when it comes to pricing management. There is no particular strategy that suits all conditions and customers.
Thus, offering variable pricing and timely discounts and offers to the customers ensures that your business attracts a large segment of guests to your business.
Understand the current demand of the market, use future forecasting, and accordingly release your promotions and offers to align your pricing strategy with the overall business goals.
Hotel Revenue Management Strategies aren't just restricted to the present scenarios and situations. Rather, it takes the bigger picture in hand for an optimum solution.
4. Leveraging Various Distribution Channels
Leveraging your distribution channels will help your business to reach out to more customers simultaneously and attract more bookings.
But it is essential that you choose the right kind of distribution channels to restrict the cost of input while maximizing your reach.
Use the optimum use of various social media channels that allow you to keep your customers engaged worldwide without many inputs.
Other channels you can use our – OTAs, responding to guest reviews, creating a google business profile, and much more.
Also, online hotel directories make your hotel visible to various travel agents around the globe which further helps you to convert more bookings.
5. Hotel Price Optimization
Based on your research, effectively set the best pricing for customers.
The knowledge attained will help you to an informed Hotel Price Optimization process.
But manually doing the research and deploying resources for the work could both be time-consuming and costly.
Thus, you can rather take up the help of a Price Comparison API that instantly crawls through various web pages and comes up with the best results based on your query.
One such smart software solution is Makcorps hotel price API which provides hotel prices from over 200+ OTAs in a single request.
Learn more about Makcorps Hotel API in the video:
Latest Trends In Hotel Revenue Management
1, Data Visualization
It is one of the recent trends that allows hotel business owners to explore a lot of data to find the critical insights hidden within.
These insights can provide hoteliers with a deep understanding of current trends and demand patterns and how they are affecting their business.
To meet up and catch on to the ever-changing patterns and demands of customers, data visualization is the futuristic approach for hotels.
The combination of internal and external data will help the hotels to adjust for a successful performance.
Detailed analytics helps businesses to understand customers' requirements and accordingly plan a strategy that generates profitability.
2. New And Smart Data Sources
We all know that the hospitality business is data-centric to a great extent and manages its maximum number of operations on data analysis.
Thus, collecting and obtaining crucial data is quite an important task. The current trends in the hospitality industry are thus focusing on making the process easier.
This is why they have switched over to new and smart data sources that specialize in providing fast and relevant results.
Smart software solutions like Hotel APIs are able to perform the task in an easy way. Monitor local trends and populace segments like never before and save up an enormous amount of time.
3. Demand Forecasting
With the recent pandemic, hoteliers have realized that data reservation is no longer useful and they need current updates regularly to forecast demands aptly.
To be more practical and result-oriented, these fluctuating demands of the customers must be done through regular forecasting for accurate results.
As demand forecasting in hotel revenue management has become more volatile in nature, revenue managers need to combine travel intent data with short-term booking trends along with other crucial information to produce the best results.
Thus, current data trends and regular updates are the keys to a better demand forecast and an accurate revenue management strategy.
4. Geographic Information System
A Geographic Information System or GIS is another support tool for revenue managers to help them incorporate geographic data into demand patterns.
This makes the hotel business owners more aware of their surroundings and compares their business operations with the characteristics of the target area.
It is a software solution that helps the decision-makers identify differences in a visual way that can't be spotted easily through traditional data analysis.
List Of Software That Helps To Build Revenue Management Strategies in Hotels
There are several hotel revenue management software & tools that can help hoteliers to compose an optimal revenue strategy.
1. Revenue Management System
These are such all-in-one revenue management systems that provide a comprehensive suite of tools to support your revenue management strategy.
Everything that is necessary to carry out daily operations is put in the software for your convenience and simplicity.
Streamline your regular operations in a single, easy-to-use software.
2. Central Reservation System
The CRS software is a centralized software that helps hoteliers to distribute room inventories, rates, and availability in real-time to both hotel's website and third-party vendors and agents.
3. Intelligence Software
Market Intelligence tools such as hotel rate shoppers and hotel search API solutions allow hoteliers to get an insight into the local market and their pricing strategies.
You can use this real-time information to leverage your business function and create an optimum pricing strategy of your own.
Keep a check on the market trends to stay one step ahead of the competition.
4. Parity Management
Keep a check on whether your competitors or distribution channels are selling inventories at a rate below than average market rate.
Wholesale distributors may sell inventory at lower costs to OTAs which can have a huge impact on the direct bookings of the hotel.
Thus, it is essential for hoteliers to keep a check on how close the rates are aligned across different channels.
Maintaining rate parity for hotels is a constant battle for revenue managers which can be achieved using suitable parity management software.
5. Business Intelligence Software
It helps hotel owners to convert trends and patterns into actionable insights.
These software solutions work with market intelligence tools and provide business owners with an optimum pricing strategy in accordance with the current market trends.
What Does A Hotel Revenue Manager Do?
Every hotel needs a revenue manager. But What is the Role of a Hotel Revenue Manager?
The job of the hotel revenue manager includes a blend of varying functions and responsibilities.
It includes studying competitor pricing and market dynamics, releasing timely promotions and discounts, managing room types and rate plans, and partnering with multiple distribution channels and OTAs.
Also, they need to merge their functions and strategy with other hotel departments to attain occupancy and hotel revenue management goals.
What Are The Other Jobs In Hotel Revenue Management?
A career in Revenue Management is quite promising and has a variety of job opportunities.
Below are some of the relevant revenue management job titles that can help you decide your future in the relative field.
1. Revenue Analyst
It is a junior-level position that involves the role of analyzing historical data and demand forecasts from a financial perspective to leverage revenue growth.
Making recommendations for improvements and data analysis is a part of the job. You can further get promoted to a Senior Analyst as well and the door to opportunities begins from here.
2. Revenue Manager
It is another career option in the relative field. The job of the revenue manager basically includes implementing revenue management strategies and related processes to optimize revenue at a particular property.
Furthermore, it includes regular reporting, managing and expanding distribution partnerships, identifying new revenue generation opportunities, and much more.
3. Area Revenue Manager
Large portfolios often have a particular area revenue manager responsible for a cluster of hotels in a particular area.
The tasks of an area revenue manager match up to that of a revenue manager but expand across a portfolio.
5. Director of Revenue Management
The Director of Revenue Management is an experienced professional that creates and implements revenue management strategy often leading a small team of revenue managers.
The role encompasses all Revenue Management Tasks alongside the higher strategy role.
6. Chief Revenue Officer
The chief revenue officer leads sales and revenue management across the organization to deliver performance along the distributed team.
It creates and drives strategies to meet or exceed revenue and profitability expectations.
7. Hotel Revenue Management Courses
There are different courses that you can pursue to start your career in hotel revenue management. A few of them are listed below: –
8. Dedicated Degrees
You can get a dedicated degree to start your career in the hospitality industry.
The degree programs will help you kick-start your journey into revenue management. These courses usually last from three to four years based on each course itself.
You can sign up for the programs like the master of management in hospitality, postgraduate Ph.D. in hotel administration, bachelor in hospitality, executive MBA in hospitality, MBA in hospitality, and much more.
9. Certification Programs
Continuing education doesn't necessarily require a full degree program.
You can even sign up for various certification courses and online learning platforms that can help you sharpen your skills.
Look for formal professional certification courses that can help you with getting proficient in revenue management.
Industry professionals that can prove a social level of expertise and are approved formally can help you understand the dynamics of revenue management.
Challenges Of Revenue Management in the Hotel Industry
Managing revenue and building effective strategies it's not an easy task and might involve A laborious process.
There are many challenges that come in the way of a revenue manager and make the task quite a roller coaster.
Here are the main revenue management-related challenges that hoteliers face each day:
1. Lack of Experienced Specialists
Revenue management is a highly intricate process that requires professionals to do the job with a thorough knowledge of the industry and expert skills.
They must know the task of doing data analysis, consumer psychology, communication, and critical thinking.
2. Lack of Technology
Many hotels today aren't updated with the latest technology systems and face many difficulties with their day-to-day tasks.
Without comprehensive software that is connected to each internal and external system, it is impossible to conduct efficient data analysis.
To make effective data-driven strategic decisions tailors must be updated with the current and Smart Technologies.
But it requires investment and huge cost inputs that are not possible for every hotel owner. This is a major emerging challenge that every other hotelier is facing today.
3. Highly Volatile Demand And Ever-changing Market Conditions
The onset of COVID-19 has had a major impact on the hotel industry and has switched the market demands to a highly volatile nature.
Consumer behavior, competition, and market demands are changing so rapidly that making accurate predictions is almost impossible.
At the same time, revenue managers have to face the difficulty of developing a long-term pricing strategy in advance to generate optimum profits.
But since the demands are constantly changing the pressure of making the probable mistakes in drafting a suitable strategy is enormous.
4. Increasing Distribution Channel Costs
A revenue manager has to look after not just the incoming money flow but also the expenses that matter.
When developing a suitable distribution strategy, revenue managers might overlook the cost the different channels accumulate.
Deciding the most suitable distribution channels so that the cost of input can be minimized is a major challenging task.
Also, the channels must be able to improve brand awareness through close cooperation with the marketing and sales teams.
5. Communication Barriers
Maintaining open communication across the different departments of the hotel is also an emerging challenge for revenue managers.
It is possible that the heads of other departments have a different vision of company strategy and development.
Thus, it becomes quite hard to take an effective decision that matches along with the different mindsets while bringing profitability to the organization.
Frequently Asked Questions:
Conclusion:
Revenue Management Strategies In Hospitality Industry is all about analyzing current data and creating strategies for improving revenue generation in hotels.

We hope you enjoyed reading the article and provided all the necessary information you need about hotel management to set you up for skyrocketing your hotel business.

The first step is for revenue growth to get the pricing right and Makcorps Hotel API is what you can check out for free now.