How To Grow Your Hotel Business In 2023
The hotel business is an exciting one, but it can be overwhelming if you're not prepared for it.
If you want to grow your hotel business in 2023, we have got you covered.
But hold up!
Before we dive in, it's crucial to stay up-to-date with the latest market trends in the hospitality industry.
So, let's start.
Know The Current Market Trends When Planning For The Future
Knowing your industry market trend is very important, it gives you an idea about how is the market performing and what is working out for your competitors and how can you strategies for getting more attraction at your hotel.
To do so, you need to check out what is working out for your competitors and how are they driving bookings at their hotels.

Now the question is, how do you get your competitor's data? Well, for this purpose hotel API providers are here to provide you with the necessary hotel-related data you need.
On the basis of your competitor research, you can create a strategy for how can you outrank them in the market and divert their guests to your hotel.
This can be done through research into other aspects of your industry as well as up-to-date information on current events in the world around us!
Once you are done analyzing your competitor's strategies:
It's time to create yours.
Read further to know, how can you do that.
How to Create A Hotel Marketing Strategy to Increase Revenue?
Marketing is one of the important steps to for branding your hotel in the market.
A marketing plan is very important, it will help you with knowing where you are required to put your efforts and on which platform.
There are different ways of marketing your hotel, this plan will help you with knowing which platform is important and which is least important.
Based on that you can know where to put in your efforts.
Here are a few things that need to be defined when making a marketing strategy:
A clear definition of your target audience (who are they?)
The mediums that will best reach them (what do they use? How often do they visit sites like yours?)
The message(s) you want consumers to take away from their experience with your brand or service-provider
Now that you have a clear idea of what to consider when crafting your hotel's marketing strategy.
It's time to discover ways to boost your hotel business.
So, Let's dive in!
Ways To Increase Your Hotel Business
Opening any business is very easy but sustaining and growing that business is full of challenges.
Here are a few points that you should refer to make your hotel business grow and sustain in the market:
1) Offer Competitive Prices
Hotels must offer competitive pricing to succeed. Research shows that this increases revenue per available room (RevPAR). One way to set prices is by comparing them to competitors through reference pricing or cost-based pricing. To do this, hotels need to analyze their competitor's performance and consider factors like cost, value, and elasticity. Using a hotel rate shopping tool such as Makcorps Hotel Rates API, hotels can quickly access their competitor's pricing data on different OTAs to make informed pricing decisions.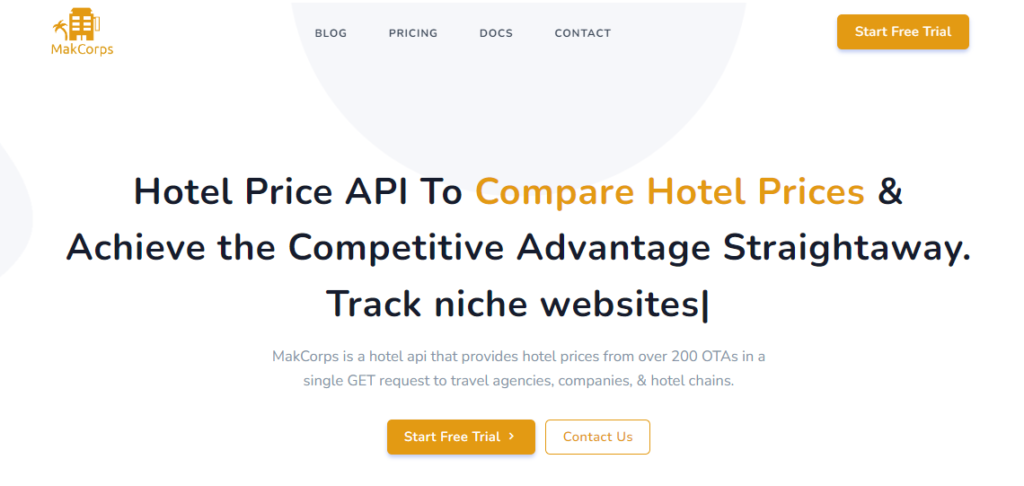 2) Refining Your Online Presence
Use social media to connect with suppliers and partners, too! Provide content that is helpful (and shareable) to your customers and staff. Create fun contests that encourage guests to share their experiences with others.
Use social media to engage with your customers and staff, and use it as a tool for building relationships. Plus, you can also use social media to connect with suppliers and partners, too! Provide content that is helpful (and shareable) to your customers and staff. You can create fun contests that encourage guests to share their experiences with others.
3) Invest In Technology To Increase Efficiency And Productivity
Technology is a key part of running a hotel business. It can help you improve efficiency and productivity, as well as help you grow your business.
Hotels can use technology like contactless check-in. When you are offering a contactless check-in hotel, it helps you create a better guest experience as it reduces the time a guest is waiting at the reception. For instance, you can use QR codes in hotels to provide guests with information about amenities, local attractions, and promotions, making their stay more convenient and enjoyable.
4) Encourage Guest Reviews On Third-party Sites
Hotels get booking from third-party websites like MMT, Goibibo, Google, etc. it is important for hotels to get hotel reviews from their guests which can be added on such platforms. These are the platforms that a guest refers to for booking hotels and when they read these reviews it helps hotels increase their bookings.
5) Improve Customer Service
Improving customer service is crucial for any hotel business. One effective way to enhance customer service is by using a chatbot. Chatbots can answer common questions from guests, such as booking requests and refunds. This can save time for both guests and hotel staff. Chatbots can also provide 24/7 customer support, improving guest satisfaction and loyalty. By using a chatbot, hotels can streamline their customer service process and free up staff to focus on more complex guest needs.
6) Use Mobile Messaging To Communicate With Customers
There are a number of ways you can use messaging to communicate with customers and employees. For example, you could send an automated message at the end of each day asking them how their stay was. You could also send out texts or emails when a certain event occurs (like when a guest checks out). These messages can be used as marketing tools, but they're also useful for communicating important information such as room availability or new products/services that are coming soon.
You should also consider using mobile messaging platforms as part of your customer service strategy—the ability to send photos with receipts makes it easy for guests who want to show off their photos on social media without having them printed out first!
7) Spread The Word With Content Marketing
Content marketing is a great way to reach your target audience and build your hotel business.
Here are a few effective ways to do it:
Create Blogs: Blogging is the most popular form of content marketing, but it can also be used for SEO purposes. If you have an established blog or website that already has followers, then blogging will help bring in new clients who are looking for information about the industry as well as tips on how they can use hotels as part of their vacation plan. To make it possible, your blog needs to be SEO optimized, consider investing in an all-rounder SEO tool and hiring an in-house SEO team or an SEO company to do it for you.

In addition to that, you should also consider starting a podcast or video series if this is something you'd like to do in addition to traditional blogging so that people have another way of getting news updates from within your brand's voice (which may be lacking sometimes).
Social Media Posts: Sharing posts from other company's social media pages on Twitter or Facebook with links back toward yours could work well too! This method works especially well if there's some kind of promotion going on where people are encouraged (by companies) not just because they want free stuff but because they think it might actually benefit them somehow.
8) Empower Staff With Technology
To boost your hotel business in 2023, technology is your best friend. It helps you work better, faster, and more efficiently, enabling you to deliver a more personalized experience to guests. So, empower your staff with tech, encourage them to use the cloud, and implement a platform that allows guests to review their stay using their mobile devices. Display these reviews prominently on your website to influence potential customers' decisions.
9) Use The Cloud To Grow Your Hotel Business
Cloud computing is a way to store data on the internet. It's also a way to store data in the cloud, which is basically just another word for "the internet."
Cloud computing has been around since the mid-1990s and has grown rapidly over time. It's now one of the most popular ways people use technology today—and hotels should take advantage of it too!
Conclusion
In this article, we've covered some of the best ways to grow your hotel business in 2023. We started with a brief overview of what it means to be successful and then covered important things such as planning for the future, refining your online presence so that people can find you more easily, and using technology like the cloud to increase efficiency and productivity. We also discussed how to use content marketing techniques like guest reviews on third-party sites (and Google+, if applicable).