10 Hotel Revenue Management Tools To Skyrocket Your Revenue
Revenue Management is an important task for any business and its entire journey is dependent on the same. Hoteliers are no exception in this relation and every other hotelier is trying to maximize their revenue generation using various tools. The expansion and enhancement in technology have created both hiccups and effective solutions for the hotel industry.
Ever-changing customer needs and smart business intelligence tools are such examples of this situation. However, taking note of many businesses that are still looking for an effective revenue management system, we have come up with just the right list of tools for you.
In this article, we have piled up 10 Hotel Revenue Management Tools to foolproof your revenue management strategies and skyrocket profit.
Hotel Revenue Management Tools: The Secret to Maximizing Your Hotel's Earnings
Hotel Revenue Management Tools are the secret to maximizing your hotel's earnings by enhancing your business operation in multiple scenarios.
You can use them for smartly tracking various essential measurement parameters of your competitors to look out for your own profits.
So, here are some of the most practical and useful tools that you can utilize to manage your business.
Makcorps Hotel Price API is one of the best hotel revenue management tools that allows hoteliers to get their hands on real-time hotel pricing and comparison data.
It is an effective hotel rate shopper that allows business owners to conduct hotel competitive analysis so that they can alter and manage their hotel pricing strategy. By keeping a track of fluctuations in the pricing strategy of the competitors, hotels can keep an eye on the fluctuating market condition.
Based on the above data, hotels can adopt dynamic pricing strategies for their own benefit in real-time to take advantage of the current market conditions. This hotel rate intelligence technology provides hotels a chance to maximize their profit and enhance their hotel revenue.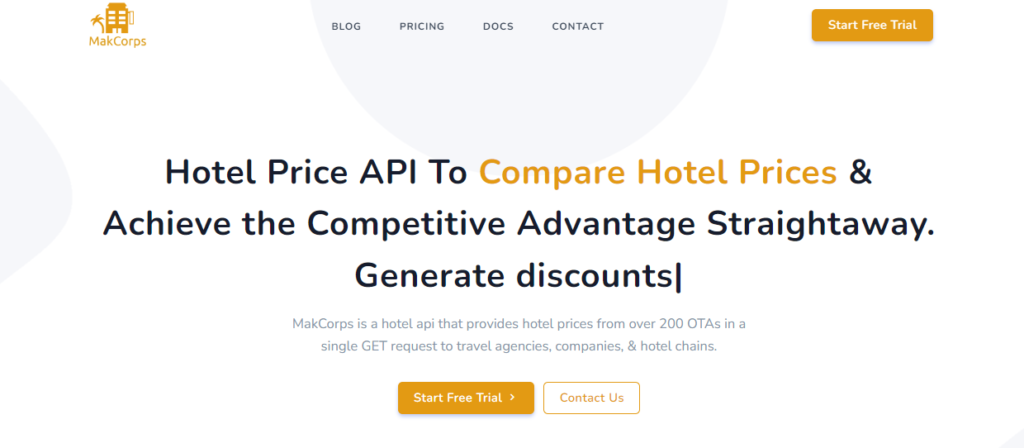 Pros – Real-Time Updations of Price Trends through 200 plus OTA platforms. Plus, also provides historical hotel pricing data.
Cons – Doesn't offer auto-generated pricing decisions to hoteliers.
Pricing – 3500$ for a year/-
Duetto is another powerful revenue management system tool that enables hoteliers to leverage big data from the hospitality industry to gather actionable insights and enable real-time personalization.
It provides new insights on pricing and demand that keeps hoteliers updated in real time. With solutions that address the challenges of today's distribution landscape, Duetto's applications are a GameChanger for optimizing profit and guest loyalty.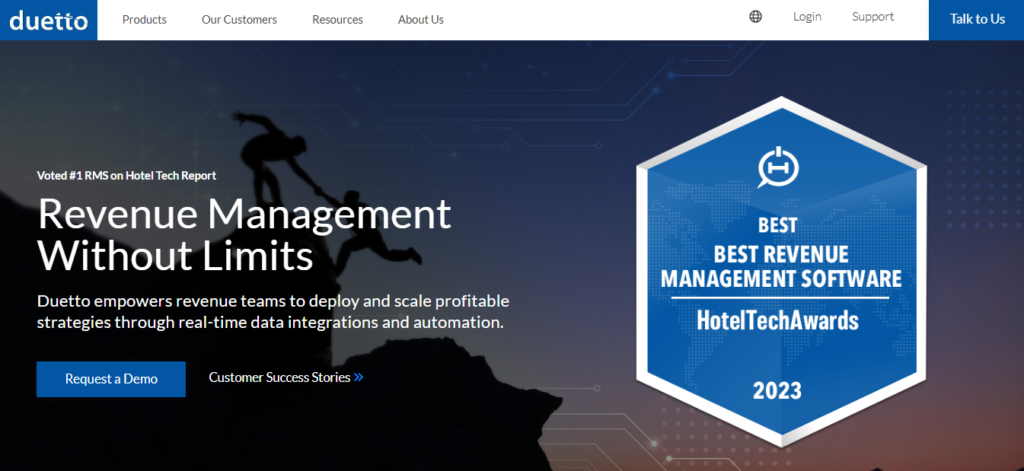 Pros – Easy to run reports and flexibility to customize it.
Cons – Make the report section more visual.
Pricing – Contact To Customer Support To Know Pricing
The Cloudbeds Pricing Intelligence Engine (PIE) is another revenue management software for hotels that empowers properties to take their pricing strategies into their own hands. It automates the adjustment of rates in the PMS as per current market conditions.
It uses performance data, local market data, competitor rates, and other essential analytics to predict and analyze consumer demands so that they can make data-based decisions. It helps to maximize revenue and profits for hoteliers and thus aiding them in better revenue management.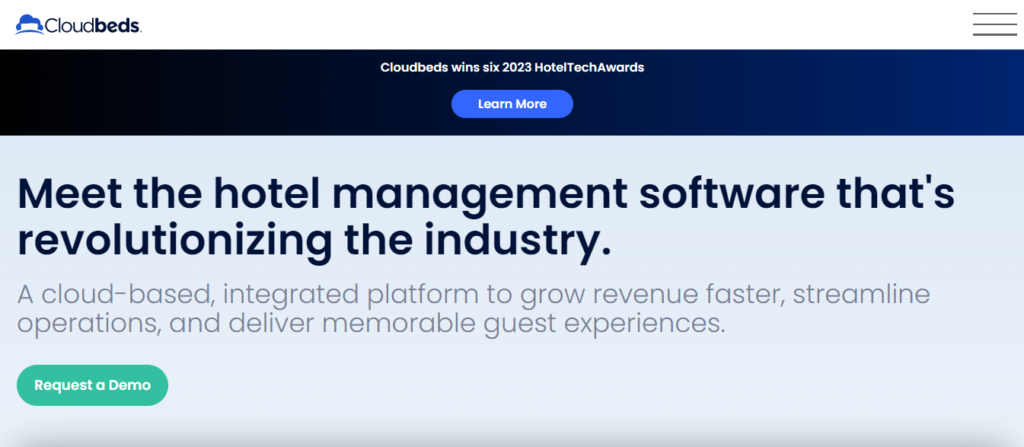 Pros – It is an effective solution for both small and medium-sized hotel chains.
Cons – Limited applicability to large-scale hotel chains.
Pricing – Starting at ₹8001 for the all-in-one solution including PMS, Channel Manager, and Booking Engine. (Terms and Conditions applied)
Atomize is an innovative solution that is used as revenue management software in hotels. By automatically setting optimal rates for hotel rooms, it helps them increase their revenue when the demand is high.
Similarly, it also helps them maintain & increase hotel occupancy rates and manage their overall revenue by lowering down prices and attracting more customers.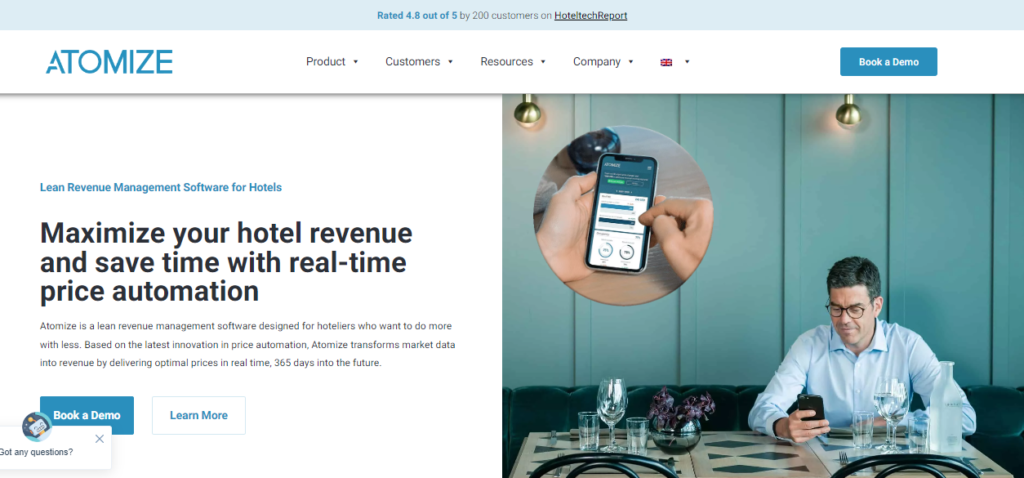 Pros – it is easier to use for users less accustomed to this type of system and provides real-time information.
Cons – The system is currently driven by historical performance when it provides price recommendations. A "market demand" driven recommendation will help even better.
Pricing – Monthly subscription (/room/month)
$7/room/month – $10/room/month
Pace Revenue is a competitive revenue management for the hospitality industry that delivers real-time automated decision intelligence and industry-leading Business intelligence delivered through an intuitive cloud platform.
It helps revenue managers to stay proactive in nature by crucial business insights in the real-time so that they can accordingly optimize their decisions towards enhanced revenue management.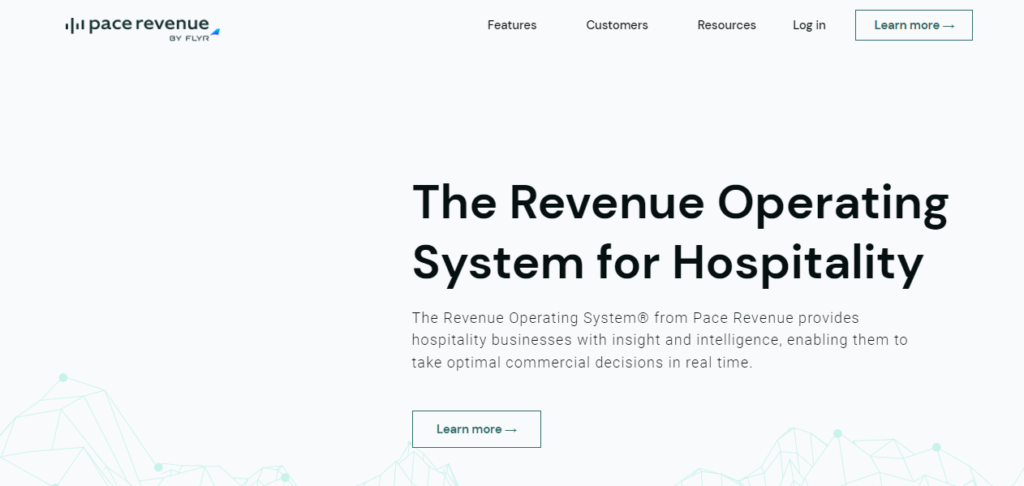 Pros – Easy-to-use for any revenue manager, including truly native business intelligence.
Cons – The freezing of price mechanics could be improved, by allowing a user to block specific prices for certain room types.
Price: Contact Customer Support To Know Pricing
RoomPriceGenie is a useful revenue management platform that allows you to update all prices in your PMS or Channel Manager with a single click. You can allow auto-updates whenever there is new information available.
It offers smart strategic foresight around the year with intelligent pricing recommendations, updated multiple times a day to optimize your occupancy rates and revenue generation.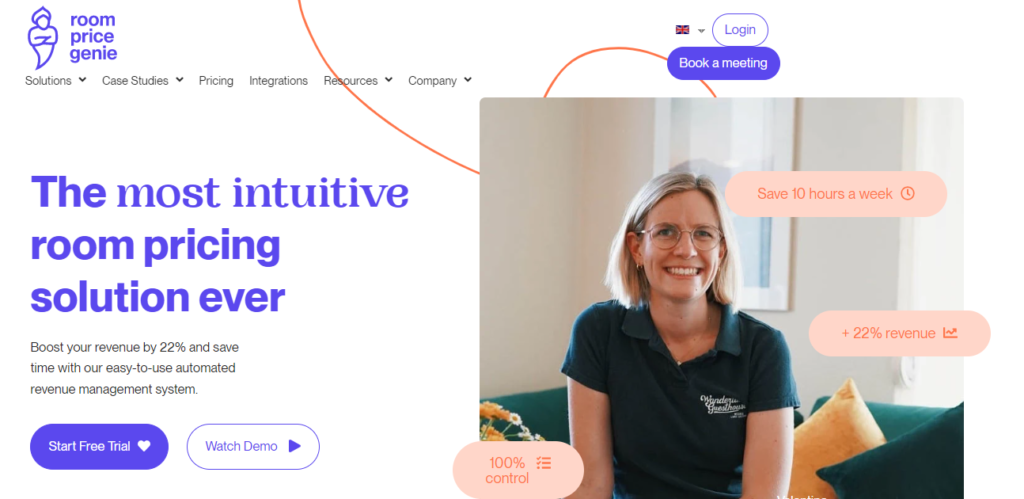 Pros – One of the easiest RMS to manage in the market, it can be almost fully automated.
Cons – There could have been benchmarks to measure results.
Pricing – ₹445.40 per room per month*
IDeaS is one of the best revenue management software on the market able to make intelligent Minimum Length Of Stay Restrictions updates, depending on forecasted demand and customer behavior.
It allows you to overbook by automatically estimating how many no-shows or last-minute cancellations will occur and adjusting availability accordingly.
This helps revenue managers to ensure maximum occupancy rates and thereby enhancing revenue management through strategic planning.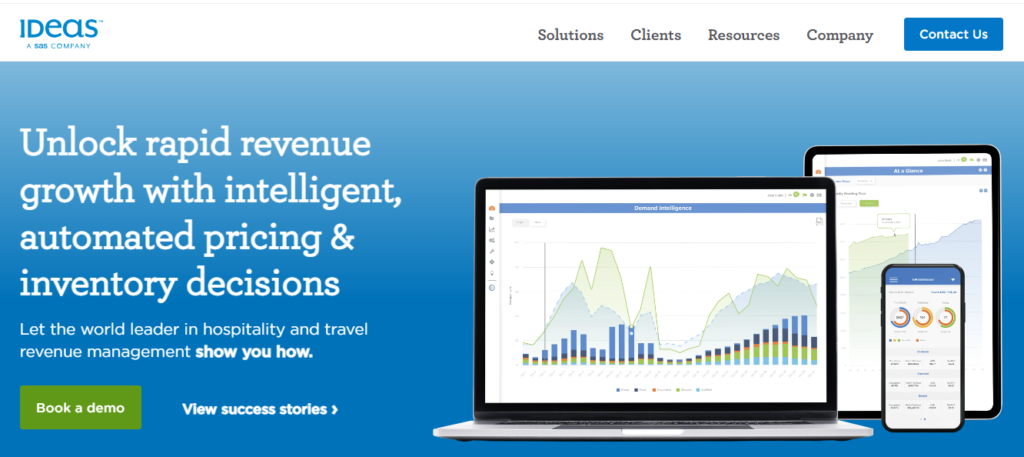 Pros – allows revenue managers to drill down into crucial data like lead time, booking sources, market segments, etc.
Cons – Quicker reaction time to the hotel when it is going into high season or out of high season would be helpful.
Pricing – Implementation fee – $1000-$2500, Monthly subscription (/room/month) – More than $10/room/month.
BEONx is a useful hotel revenue management solution that enables you to make informed decisions based on high-quality data that feeds into a highly adaptive AI-driven algorithm.
It provides you with the most accurate pricing recommendations in any given situation so that you can maximize your revenue generation.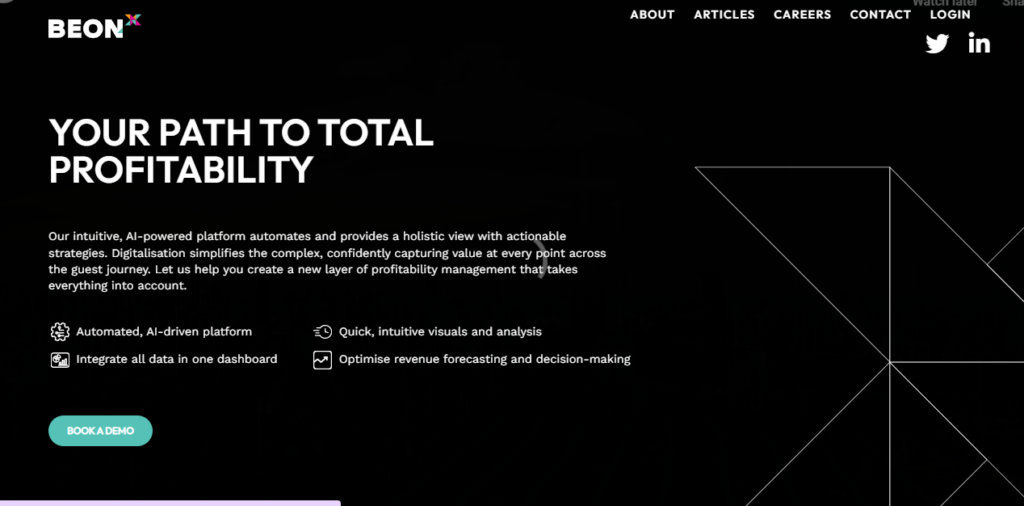 Pros – Necessary information in an understandable and easy-on-the-eye format, Fully configurable tables with all industry KPIs
Cons – Could have more support from accounts via WhatsApp and/or skype. It is limited to email and phone.
Pricing – Contact Customer Support To Know the Pricing
Smartpricing is one of the best types of revenue management systems that monitor hotel & market data and assesses your facility's performance over 100 times a day.
It offers smart algorithms that generate the most profitable rate based on current demand, availability, trends, and historical data. Based on the data, it creates optimal prices for all room types that are automatically published across your website and OTAs, in the real time.
This helps revenue managers to lower their manual efforts while maximizing their revenue generation and profitability.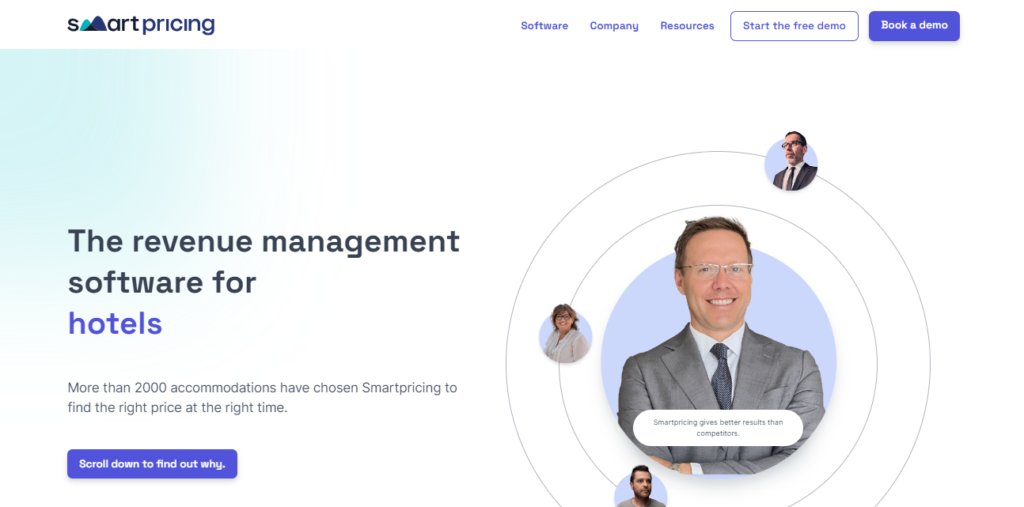 Pros- It is easy to use, intuitive, and allows you to always have the right room price.
Cons – The simplification of reading the graphic reports is still very little.
Pricing – Freemium (hotel can trial for free) – 30-day trial, Monthly subscription (Flat) – Less than $500/month. 
Cendyn is a pricing and revenue management tool that drives profitability and guest loyalty through an integrated technology platform.
It aligns revenue, eCommerce, distribution, marketing, and sales teams with centralized data, applications, and analytics, so they can capture more demand and accelerate growth. It provides rules-based automation with the right level of control revenue managers crave.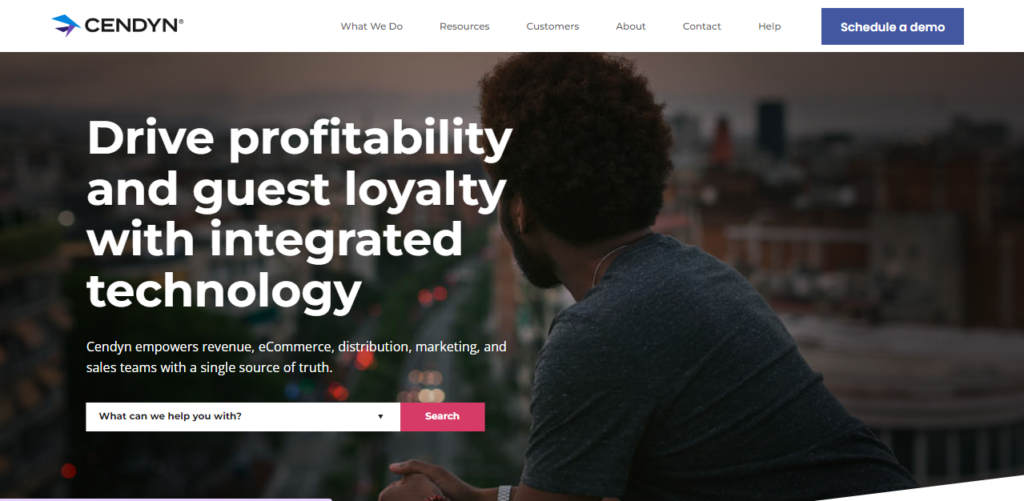 Pros – It's easy to use, detailed reporting, and flexibility of forecast to adapt to business trends.
Cons – The introduction of dynamic room type segmentation, so rates for room types can flow independently from each other is still missing.
Pricing – Contact the Customer Support Team To Know the Pricing
Major Types Of Hotel Revenue Management Tools
List Of Software That Helps To Build Revenue Management Strategies in Hotels
There are several hotel revenue management software & tools that can help hoteliers to compose an optimal revenue strategy.
1. Revenue Management System
These are such all-in-one revenue management systems that provide a comprehensive suite of tools to support your revenue management strategy.
Everything that is necessary to carry out daily operations is put in the software for your convenience and simplicity.
Plus, it also streamlines your regular operations in a single, easy-to-use software.
2. Central Reservation System
The CRS software is a centralized software that helps hoteliers to distribute room inventories, rates, and availability in real-time to both hotel's website and third-party vendors and agents.
3. Intelligence Software
Market Intelligence tools such as hotel rate shoppers and hotel search API solutions allow hoteliers to get an insight into the local market and their pricing strategies.
You can use real-time hotel price dataset to leverage your business function and create an optimum pricing strategy of your own.
Plus, these tools also help you keeping a check on the market trends to stay one step ahead of the competition.
4. Parity Management
Keep a check on whether your competitors or distribution channels are selling inventories at a rate below than average market rate.
Wholesale distributors may sell inventory at lower costs to OTAs which can have a huge impact on the direct bookings of the hotel.
Thus, it is essential for hoteliers to keep a check on how close the rates are aligned across different channels.
Maintaining rate parity for hotels is a constant battle for revenue managers which can be achieved using suitable parity management software.
5. Business Intelligence Software
Hotel business intelligence tools help hotel owners to convert trends and patterns into actionable insights.
These software solutions work with market intelligence tools and provide business owners with an optimum pricing strategy in accordance with the current market trends.
Frequently Asked Questions:
A Revenue Management System (RMS) uses algorithms and data analysis to optimize pricing and inventory for organizations in various industries, including hospitality, transportation, and retail. The RMS collects and analyzes data on customer demand, competitor pricing, and historical sales data to dynamically adjust prices in real time. 
The goal of an RMS is to maximize revenue by selling the right product to the right customer at the right price at the right time.
Hotel Revenue Management Systems (RMS) offer a range of benefits that help hotels improve their revenue and profit, manage their inventory more effectively, and enhance the customer experience. 
RMS uses data analysis and optimization algorithms to set dynamic prices that respond to changes in demand, seasonality, and competitor pricing.